Yangtze irreversibly polluted: `China Daily'
GETTING WORSE The Chinese government faces the downside of rapid economic growth, with many rivers in critical condition and fresh water resources dwindling
China's massive Yangtze River, a freshwater lifeline for tens of millions of people, is seriously and largely irreversibly polluted, a state-run newspaper said yesterday.
More than 600km of the river are in critical condition and almost 30 percent of its major tributaries are seriously polluted, the China Daily said, citing a report by the Nanjing Institute of Geography and Limnology under the Chinese Academy of Sciences.
The pollution, along with dams and heavy boat traffic, has caused a sharp decline in aquatic life along the Yangtze.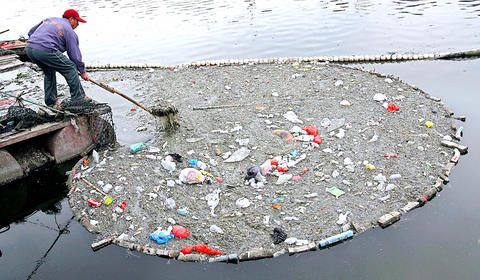 A Chinese worker clears away rubbish from a polluted river in Beijing yesterday. PHOTO: AFP
The report said the annual harvest of aquatic products from the river has dropped from 387,000 tonnes in the 1950s to about 90,000 tonnes in the 1990s.
"The impact of human activities on the Yangtze water ecology is largely irreversible," Yang Guishan, a researcher at the institute, was quoted as saying.
challenge
China's government faces a challenge in much of the country to deal with worsening pollution caused rapid economic growth and the widespread flouting of environmental regulations.
The Yangtze accounts for about 35 percent of China's total fresh water resources but it is also responsible for 70 percent to 75 percent of the country's floods, the report said.
`flood control'
"Flood control remains an arduous task along the Yangtze, given rising temperatures and frequent occurrences of extreme weather over the last 50 years," Yang said.
He said the Three Gorges Dam, the world's biggest hydropower project, reduced flood risks in the middle reaches, but the risk of flooding remained high in the lower reaches.
But the report also showed that the huge reservoir created by the Three Gorges Dam project was seriously polluted by pesticides, fertilizers and sewage from passenger boats.
The Yangtze is about 6,200km long and runs from the Tibetan plateau to the sea near Shanghai, passing through some of China's major cities, such as Chongqing and Nanjing.
Comments will be moderated. Keep comments relevant to the article. Remarks containing abusive and obscene language, personal attacks of any kind or promotion will be removed and the user banned. Final decision will be at the discretion of the Taipei Times.