Uganda promises safety after protest
ENVIRONMENT OR ECONOMICS? A march against development in a rainforest degenerated into an anti-Asian melee in which at least three people were killed
Uganda's government assured Kampala residents of their safety yesterday, one day after rioters targeting Asians stoned one man to death during a protest over plans by an Indian firm to develop almost one-third of a rainforest reserve.
An Asian man was reported to have been stoned to death after being pulled off his motorbike. Several other motorists were beaten and a sugar truck was set on fire.
Demonstrators shouting anti-Indian slogans hurled rocks at troops who set up roadblocks to stop the protests spreading. Soldiers retaliated with live ammunition and tear gas, killing two black Ugandans.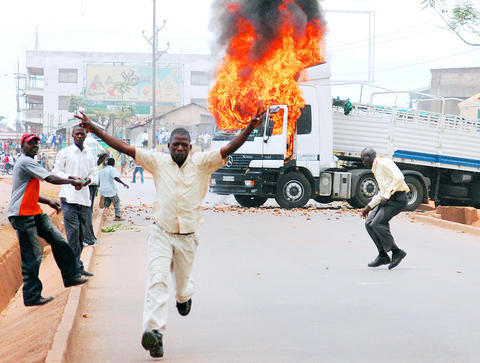 A protester runs in front of a truck set on fire on Thursday by a crowd in Kampala protesting Ugandan government plans to allocate part of a forest reserve to a sugar company. Three people were killed as the protest exploded into ethnic violence.
PHOTO: AP
Police arrested 20 people suspected of being the ringleaders of the melee and also offered special security to Asians in Kampala, Information Minister Kirunda Kivejinja said.
"The government will not allow any group of persons ... to abuse the hard-earned freedoms of Ugandans and plunge the country into lawlessness and anarchy," he said in a statement. "The government reassures all the people living in Uganda of their security and full protection."
Scenes of Asian men dragged off motorbikes and beaten while others cowered in besieged city centre shops and a Hindu temple brought back bitter memories of 1972, when the late dictator Idi Amin expelled Uganda's 75,000 Asians.
Several thousand have since returned, but are viewed with suspicion by some Ugandans who resent their domination of many businesses.
Many of those taking part in Thursday's demonstration carried placards telling Indians to leave Uganda, and as the protest turned bloody armed police had to rescue more than 100 Asian men.
"I was sitting in class when people gathered outside making signs through the window that they were going to kill us," said a 20-year-old Asian student, Prakash.
"We could see one Indian guy getting beaten really badly. It was terrible, he said.
The latest controversy began last year when President Yoweri Museveni ordered a study into whether to allow Scoul, a local sugar firm owned by the Indian-owned Mehta Group, to use 7,100 hectares of the forest. The state has a 30 percent share in Mehta.
Mabira, which lies about 50km east of Kampala, has been a nature reserve since 1932. The 30,000-hectare reserve contains some of the last patches of virgin forest in Uganda and serves as an important water catchment area.
Critics say cutting part of Mabira would have grave ecological consequences, from increased soil erosion to the drying up of rivers and rainfall, and the removal of a buffer against polluting nearby Lake Victoria.
Museveni says conservation is a luxury not afforded by poor countries seeking economic development.
On Thursday he said he would not be swayed by conservationists "shouting on the radio."
"I cannot be intimidated," he said. "The future of all countries lies in processing [goods] ... I shall not be deterred by people who do not see where the future of Africa lies."
The Mehta Group took out newspaper ads in local papers that branded the opponents of the scheme as "anti-development" and dismissed concerns about the environmental impact.
Analysts say that the company's aggressive stance, coupled with the government's intransigence, amplified and charged the debate.
The march, which was authorized by police and began peacefully, was arranged by environmentalists, opposition leaders and religious groups.
Angelo Izama, a commentator at the Daily Monitor newspaper in Kampala, said: "What happened today was less about the environment than resentment by the oppressed Ugandan economic class towards the Asian commercial class."
Comments will be moderated. Keep comments relevant to the article. Remarks containing abusive and obscene language, personal attacks of any kind or promotion will be removed and the user banned. Final decision will be at the discretion of the Taipei Times.