Reunion volcano in `eruption of the century'
READY TO RUMBLE The violent eruption resulted in the collapse of the summit, magma being spewed 200m into the air and the lava cutting off a national highway
Ten days after violently awakening, a volcano on the Indian Ocean island of Reunion continued spewing lava on Sunday in what experts called "the eruption of the century."
But the Piton de la Fournaise volcano on eastern Reunion had lulled considerably, and residents remained out of danger.
Tourists and residents have been able to take in the sights of the smouldering lava and magma being tossed as high as skyscrapers.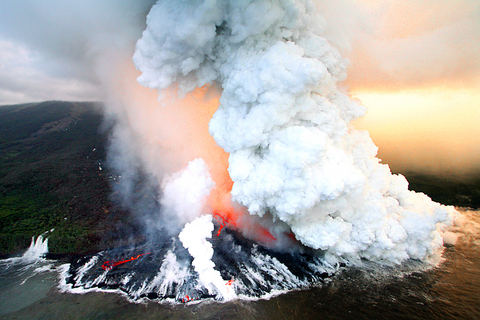 An aerial view of the island of La Reunion, showing lava flowing out of the Piton de la Fournaise volcano on Friday.
PHOTO: AFP
"We can call it the eruption of the century," said Zacharie Duputel, a seismologist based at the Volcano Observatory on Reunion island. "We have never observed such a phenomenon."
The eruption resulted in the collapse of the volcano's summit, with magma at times being spewed as high as 200m into the air.
The lava had cut off a national highway as it spurted toward the sea at 60kph, creating clouds of gas as it made contact with water. Sulphur dioxide levels in the gas have not been measured at dangerous levels.
Lava flow had been estimated at three million cubic meters per day.
On Sunday, lava leapt only 10m into the air, according to the observatory. There was less activity within the crater, though entire sections of rock continued to collapse.
Some people with memories of damage caused by previous eruptions were not enjoying the show. Eight houses were destroyed by lava in 1986.
About 100 residents were evacuated from a village in southeastern Reunion on Friday, with some believing they could see lava approaching.
They were allowed to return to their homes two hours later, however. What was believed to be lava turned out to be a forest fire caused by burning ashes.
About a dozen families have decided not to return to their homes anyway, said Guy Riviere, deputy mayor for the eastern city of Saint-Philippe and an agent for the Office of National Forests. He said they planned to return home after the volcano's activity reduced further.
While houses have not been affected, residents continue to hear loud rumbling in addition to seeing the burning forested area.
"The atmosphere is gloomy in the village," Riviere said.
About 300 hectares of primary forest has been destroyed over the past 10 days, and some 30 hectares of palm and vanilla plants have burnt. Timber used for cabinet-making that is not found elsewhere on the island was heavily damaged.
Comments will be moderated. Keep comments relevant to the article. Remarks containing abusive and obscene language, personal attacks of any kind or promotion will be removed and the user banned. Final decision will be at the discretion of the Taipei Times.