China crushes Xinjiang `terror camp'
An exiled group struggling for an independent homeland in China's far northwest yesterday questioned the motives for a police raid on an alleged Islamist terrorist camp there that left 19 people dead.
China's state-run press announced on Monday that police last week destroyed an Islamic terrorist training camp in the remote Xinjiang region, which is heavily populated by the Muslim Uighur ethnic minority.
Eighteen suspected terrorists and one policeman were killed in a gun battle during the raid, Xinhua news agency said, as it warned of links between the renegade group and Osama bin Laden's al-Qaeda network.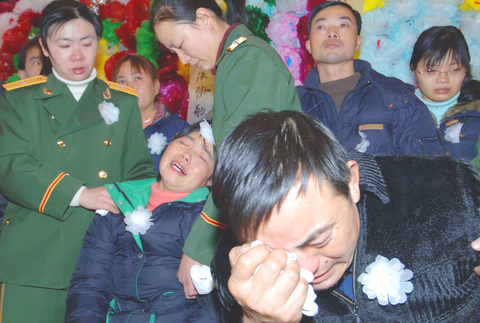 Relatives of paramilitary officer Huang Qiang grieve during his funeral in Urumqi, Xinjiang, China, yesterday. Huang was killed when he took part in a police raid on an alleged terrorist camp in mountains near the Pakistan border.
PHOTO: AP
The alleged training camp belonging to the so-called East Turkestan Islamic Movement was located in the Pamir mountain region bordering Pakistan and Afghanistan, Xinhua cited Xinjiang police spokesman Ba Yan as saying.
Xinhua said the group may have infiltrated the region with al-Qaeda's help, as it reported that 22 hand grenades were seized and evidence uncovered of the group attempting to produce up to 1,500 more such devices.
An exiled Uighur organization that has been seeking independence in Xinjiang yesterday doubted the veracity of the report.
It also accused Beijing of using the global war on terror to renege on promises of autonomy for the restive region.
"We do not know what happened in this village, except for the Chinese government version," said Alim Seytoff, the Washington-based executive chairman of the World Uighur Congress. "The Chinese government has failed to provide substantial evidence to the international community to prove it is facing an international terrorist threat."
"For all we know, this may have been something artificially created by the Chinese government to prove the terrorist threat," he said.
But Zhao Yongchen (趙永琛), China's vice head of the Xinjiang anti-terrorist force, said the threat of terrorism was real and maintained that up to 160 people had been killed in Xinjiang by terrorists over the past "several dozen years."
Comments will be moderated. Keep comments relevant to the article. Remarks containing abusive and obscene language, personal attacks of any kind or promotion will be removed and the user banned. Final decision will be at the discretion of the Taipei Times.