Mexico president takes drug war to wild border town
CRACK DOWN Dubbed `Operation Tijuana,' the mobilization is the second major offensive launch by Felipe Calderon since he took office last month
Soldiers and federal police poured into the violent border city of Tijuana on Wednesday, manning checkpoints and inspecting local police stations as part of President Felipe Calderon's latest offensive against powerful drug gangs.
Backed by helicopters, planes and boats, the force descending on the city across the border from San Diego, California will eventually consist of 3,300 troops, Mexico's government has said. It was not clear exactly how many had entered Tijuana by Wednesday night.
Soldiers went into at least two local police stations and checked the documents and weapons of hundreds of officers.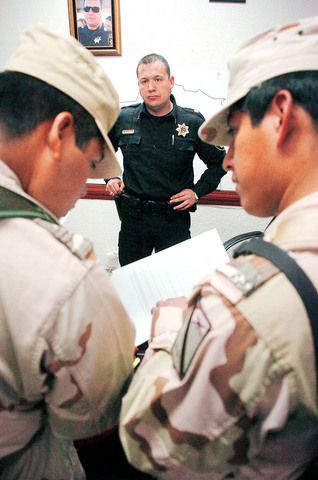 Manuel Arias Robles, a sector police chief, watches as Mexican soldiers review weapons and a registry of the police officers under his supervision in Tijuana, Mexico, on Wednesday.
PHOTO: AP
Federal investigators allege there is a corrupt network of police in the city supporting traffickers who smuggle tonnes of cocaine, methamphetamine and marijuana over the busy border crossing into the US. There were no immediate reports of arrests.
Tijuana Mayor Jorge Hank Rhon has welcomed the troops but some residents complained about the military checkpoints in the city.
"It's good that they do these operations but this seems a bit over the top," said Raul Gonzales after soldiers ordered him out of his car and searched him from head to toe on Wednesday. "I'm just going out with my family."
Dubbed "Operation Tijuana," the mobilization is the second major military offensive against drug gangs by Calderon, who took office on Dec. 1 promising to crack down on organized crime.
Last month, he sent 7,000 troops to his native state of Michoacan in western Mexico, which has been plagued by execution-style killings and beheadings as rival gangs fight over marijuana plantations and smuggling routes.
Calderon made his first visit to these troops at a base in the Michoacan city of Apatzingan on Wednesday, donning a green army cap and jacket for a breakfast with 200 agents.
"This is not an easy task nor will it be fast," Calderon said. "It will take a long time, imply using enormous resources and even unfortunately the loss of human lives."
But, he added, "if we continue working as we have been until now, our cities and our land will not remain in the hands of criminals."
Drug gangs were blamed for more than 2,000 murders nationwide last year and have left a particularly bloody trail in Michoacan and Tijuana, where more than 300 people were slain last year.
The gangs have taken to decapitating their victims and leaving their heads in front of government buildings, dumping them on public beaches and even rolling them onto a nightclub dance floor.
Comments will be moderated. Keep comments relevant to the article. Remarks containing abusive and obscene language, personal attacks of any kind or promotion will be removed and the user banned. Final decision will be at the discretion of the Taipei Times.