Twelve more Java ferry disaster survivors found
Twelve people on board a ferry that sank four days ago in Indonesia's Java Sea were found alive yesterday after clambering onto an unmanned offshore oil rig, navy officers said.
The survivors, all male, were weak but well and expected to arrive on shore later yesterday, said Navy spokesman Lieutenant Colonel Tony Syaiful, who monitored the rescue operation just after midnight from land via radio.
Navy Colonel Jan Simamora, the head of the search and rescue mission, confirmed the rescue.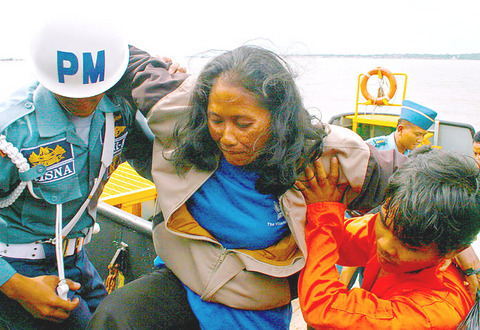 Rescuers in Surabaya, Indonesia, assist a survivor of the Java ferry disaster after his rescue from the sea yesterday.
PHOTO: EPA
Authorities say 628 people were onboard the ferry when it sank late on Friday after being pounded by waves for 10 hours during a violent storm en route from Indonesia's section of Borneo island to the main island of Java.
At least 212 people have been found alive so far, most of them plucked from life-rafts or clinging on to debris, but some 400 remain missing, Simamora said.
"We are trying our utmost to find more," Simamora said. "We still hope that those in lifeboats are still alive."
People in life-rafts or holding on to some form of buoyancy aid can survive for days in Indonesia's warm tropical waters.
Simamora said that 12 bodies have recovered. Officials have reported seeing some corpses in the ocean, while at least two survivors said that many of the victims were trapped in the ship when it sank.
The 12 men rescued yesterday had drifted around 200km from where the ferry sank before coming across the rig, Syaiful said.
Relatives of the missing have flocked to hospitals and ports along Java's coast, hoping their loved ones may turn up alive.
The Senopati Nusantara was built in Japan in 1992 and had a capacity of 850 people.
Officials say bad weather was the cause of the accident, one of several deadly maritime incidents in Indonesia in recent weeks.
Another ferry survivor said that body after body had been dumped from his life raft as people died before help could arrive.
"I was very sad when I had to get rid of the bodies. But I didn't know what else to do with so many dead bodies," said Leopold Kafares, 35, from Flores island.
He was speaking at a hospital in Surabaya, East Java where he was being treated after being picked up at sea.
Kafares said when the ferry ran into trouble in rough seas passengers scrambled for life buoys or space in life rafts.
Just as the ship was capsizing, "I found a life raft in front of me. I struggled to get into the craft with four other people," he said.
But the others died in the rough weather conditions and with food and fresh water lacking, as did more people he helped pull into the raft later, he said.
Some survivors are still on life rafts in the open water, with food being airdropped to them as rough seas and bad weather prevented rescue craft from reaching them.
Search and rescue efforts involving military, government agency and civilian vessels, planes and helicopters have focused on saving lives first over recovering the dead.
Another survivor at the Surabaya hospital, Refi Setiawan, a 29-year-old from Central Java, said ferry passengers were screaming hysterically as the ship started to list.
"Panic peaked when water got to the deck. The ship slanted to the left but in a few seconds it slanted to the right and immediately capsized," he said.
"I, thank God, was able to hold onto a wooden panel until a fisherman helped me. I thought I was dead" after sweltering tropical heat, downpours and being tossed about in the rough seas, said Setiawan.
High waves and strong sea currents were pushing the bodies of the dead and the living eastward in the direction of Surabaya,rescue coordinator Eko Prayitno said.
Comments will be moderated. Keep comments relevant to the article. Remarks containing abusive and obscene language, personal attacks of any kind or promotion will be removed and the user banned. Final decision will be at the discretion of the Taipei Times.