Pope returns to visit his roots in Bavaria
Pope Benedict XVI rode through a cheering crowd that gathered to hear him celebrate open-air Mass yesterday on the outskirts of Munich, part of his six-day homecoming visit to his native Bavaria.
The pope, who says his heart "beats Bavarian," smiled and waved to the crowd from his popemobile on his way to the raised altar platform. People along his route flew yellow-and-white Vatican flags, Bavaria's blue-and-white flag and flags from Germany, Mexico, Croatia, Slovakia and Poland.
In the crowd, Johann Habla, 76, praised Benedict's touch with the young: "He reaches young people ... If they all go to church is another matter, but perhaps something will remain."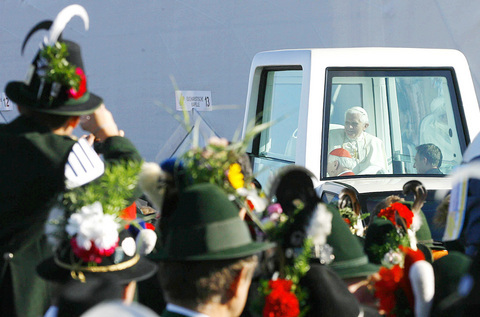 Pope Benedict XVI waves to pilgrims as he arrives in the popemobile for a public mass in Munich yesterday morning. The German-born pope is paying a six-day visit to his his Bavarian homeland this week.
PHOTO: AP
Gerda Holzinger, 57, said that since Benedict became pope last year she was seeing a new side of the conservative former theology professor, who served as the city's archbishop from 1977 to 1982.
"Cardinal Ratzinger was for us a stubborn theologian; now he is opening up, and a different person is coming out," she said.
"I find him good. He sticks to the old values, which have been good for 2,000 years," she said.
Benedict arrived on Saturday on a six-day trip in Munich, which he left in 1982 when he moved to Rome as the Vatican's chief doctrinal watchdog.
The pope is expected to appeal to his homeland -- now largely secular, with a shrinking and more liberal Catholic Church -- to return to its Christian faith.
He also planned to make a brief visit to Marktl am Inn, the small town where he was born, and to Freising, where he was ordained a priest. He taught theology at the University of Regensburg in the region before being named bishop, he still has a house in the city and his brother Georg, a retired priest and choir director, lives there.
Police said that vandals tossed balloons filled with blue paint at the home of Benedict's birth in Marktl am Inn early yesterday. The damage was not serious and Vatican spokesman Frederico Lombardi dismissed the incident as "really secondary."
Comments will be moderated. Keep comments relevant to the article. Remarks containing abusive and obscene language, personal attacks of any kind or promotion will be removed and the user banned. Final decision will be at the discretion of the Taipei Times.