Sri Lankan girls injured by bomb hidden in corpse
A bomb hidden with a dead body exploded in north Sri Lanka on Friday, wounding six people, including four schoolgirls, witnesses and the defense ministry said.
The explosion took place near the government-held town of Vavuniya -- on the edge of territory controlled by ethnic Tamil rebels -- as police investigated reports of a dead body inside an abandoned, three-wheel taxi, they said.
A reporter said police were suspicious about the three-wheeler and prevented reporters from approaching it to take photographs, and that the blast took place as the journalists were arguing with police over access.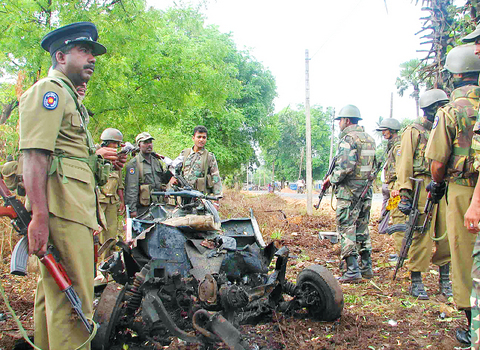 Sri Lankan police and army officers inspect the wreckage of a vehicle that exploded in Vavuniya, Sri Lanka, yesterday. Six people, including four schoolgirls and a policeman, were injured in the explosion, officials said.
PHOTO: AP
Four schoolgirls, a policeman and a civilian were wounded, according to a staff member at Vavuniya hospital where they were taken.
The body inside the vehicle was identified as S. Somapala, one of two ethnic Sinhalese men abducted from their village in a government-held part of Vavuniya on Thursday, an official at the government's Media Center for National Security said, declining to be named, citing policy.
The second man, a village guard, managed to escape but was shot and wounded by his abductors as he fled.
His kidnappers spoke Tamil, the guard later told reporters in Vavuniya.
The official said it was still not clear who was responsible for the abduction and the blast.
Vavuniya, 210km north of Colombo, is the last government-held town before entering a wide swath of territory under the rebels' control.
Tamil Tiger rebels have been blamed for dozens of roadside bombs hidden in motorbikes and in three-wheeler taxis in the past several months.
On Aug. 14, Pakistan's then-ambassador to Sri Lanka, Bashir Wali Mohammed, survived a blast from a bomb hidden in a three-wheeler taxi in the capital, Colombo. Seven people died.
A four-year-old ceasefire agreement meant to halt more than two decades of civil war between the government and Tamil Tiger rebels has all but collapsed in the past few months because of heavy clashes that have killed hundreds of combatants and civilians.
Decades of discrimination against the ethnic Tamil minority led the Liberation Tigers of Tamil Eelam to take up arms against the Sinhalese-dominated state, with a war breaking out in 1983. More than 65,000 people were killed before the 2002 truce.
Comments will be moderated. Keep comments relevant to the article. Remarks containing abusive and obscene language, personal attacks of any kind or promotion will be removed and the user banned. Final decision will be at the discretion of the Taipei Times.