Thousands deployed to Baghdad
INEFFECTIVE OFFENSIVE Even the White House admitted ahead of Iraqi Prime Minister Nouri al-Maliki's visit today that the recent joint security plan has not worked
The US and Iraq are moving thousands of troops into Baghdad to bolster Iraq's war-weary capital in what the White House suggests is an acknowledgment that the six-week US-Iraqi security offensive is not working.
President George W. Bush and Iraqi Prime Minister Nouri al-Maliki were to discuss details of the new plan yesterday at the White House, al-Maliki's first visit to the US since taking office two months ago.
"It's pretty clear that there's an attempt in Baghdad to create as much chaos and havoc as possible. And it's important to make sure that we address this," White House press secretary Tony Snow said. He said it was clear that the previous plan to bolster security, which Bush praised on his surprise visit to the city on June 13, "has not achieved its objectives."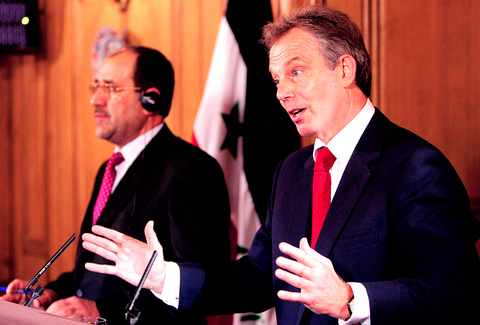 British Prime Minister Tony Blair speaks as Iraqi Prime Minister Nuri al-Maliki listens during a news conference at 10 Downing Street in London on Monday.
PHOTO: EPA
Snow did not give details of the new Baghdad security plan other than to say it was in the works and would be high on the agenda for the Bush-al-Maliki meetings. Other US officials said it entails bringing more US troops into Baghdad from elsewhere in Iraq.
A senior Pentagon official said the remainder of a backup force that had been stationed in Kuwait was also heading into Iraq. Some US military police companies are being shifted to Baghdad, involving between 500 and 1,000 troops, as well as a cavalry squadron and a battalion of field artillery troops, said the official, who requested anonymity because the plans yet to be made public.
The official said at least two Iraqi military brigades will be brought into Baghdad from other parts of the country. Forces are being shifted to meet changing security demands in different neighborhoods "to face the enemy where we think he is," the official said.
There are generally about 3,500 troops in a brigade, and more than 800 in a battalion. Currently about 30,000 of the 127,000 US troops in Iraq are in Baghdad.
General George Casey, the top US commander in Iraq, discussed such measures with al-Maliki in Baghdad ahead of the prime minister's visit to the US. Casey contends that al-Qaeda had increased its killings in Baghdad to show it remains a force to be reckoned with after the June 7 killing of its leader in Iraq, Abu Musab al-Zarqawi.
Bush retains confidence in al-Maliki, the White House said.
"Yes," Snow said when asked whether Bush was still confident that al-Maliki could succeed.
In London for talks ahead of his White House visit, al-Maliki said he feared the possible broader consequences of the two-week-old Israeli-Hezbollah fighting.
"I am afraid that what's going on in Lebanon will be a great push towards fundamentalism," al-Maliki said during a news conference with British Prime Minister Tony Blair.
He has condemned Israel's offensive and said the US and world haven't done enough to stop it.
Comments will be moderated. Keep comments relevant to the article. Remarks containing abusive and obscene language, personal attacks of any kind or promotion will be removed and the user banned. Final decision will be at the discretion of the Taipei Times.