Elections in Congo raise hope of peace
A SAD PLACE The majority of the population earns less than US$1 a day and consumes fewer than two thirds of the daily calories required for good health
The Democratic Republic of Congo (DRC) sits on immense reserves of copper, cobalt, gold, uranium, diamonds and oil and ought to be one of the richest countries on the planet.
Instead it is a sink of corruption, a theater of conflict between groups seeking to grab its wealth and home to some of the poorest, hungriest, most disease-stricken people on earth.
Observers are hoping that this Sunday's presidential and parliamentary elections, the country's first in more than four decades, will promote peace and ensure that its 60 million inhabitants at last start to profit from the wealth that is rightly theirs.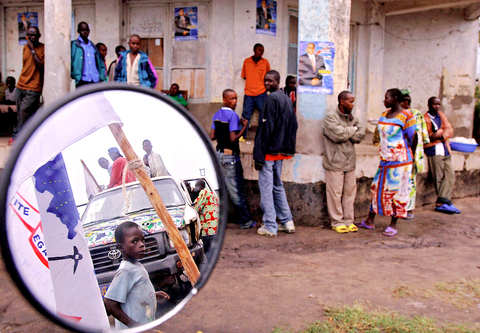 A group of villagers wait outside a Union of Congolese Patriots campaign office as a campaign truck pulls up outside in the town of Kasenyi, Congo, on Monday.
PHOTO: AFP
The former Zaire is home to the world's second largest tropical rain forest and to the Congo, the planet's second longest river. It also boasts substantial mineral wealth, including 34 percent of the world's supply of coltan, a vital component for, among other things, mobile phones.
But that richness was a factor in making it the scene in 1998-2003 of one of the bloodiest conflicts since World War II, drawing in covetous neighbors. And there has been endemic corruption, with former dictator Mobutu Sese Seko believed to have stashed away billions of dollars in overseas bank accounts.
"Despite the abundance of raw materials, the country's formal economy has virtually collapsed in the last few decades due to mismanagement, conflict and instability," according to a World Bank report.
Per capita GDP in the 1980s was only a third of that in 1962 and it declined even further in the 1990s, according to the bank. The DRC is one of the world's most debt-laden countries.
According to the WHO and UNICEF, the vast majority of the population survives thanks to the informal economy, earning less than US$1 a day and consuming fewer than two thirds of the daily calories needed for good health. Eighty percent of Congolese -- or more than 45 million people -- have no access to safe water.
Infant mortality is 1,850 per 100,000 live births, the highest in Africa. More than a million children are orphans due to the death from AIDS of one or both parents.
Mobutu's 32-year rule was a "mafia culture in diamonds, copper and cobalt which is not about to go away" one mining expert said.
Formerly the jewel in a once booming industry, state mining company Gecamines saw copper production slump from 470,000 tonnes a year in the 1980s to just 9,000 tonnes in 2003.
In 2004, six government ministers were sacked for corruption. Three of them -- Eugene Diomi, Joseph Olenghankoy and Roger Lumbala -- are candidates in this week's presidential election.
"The fight against corruption and poverty is the main issue in the election," says Jean-Marie Mulumba, head of an anti-graft group set up by non-governmental organizations in June.
He said a failure to address the problem would create new violence.
Comments will be moderated. Keep comments relevant to the article. Remarks containing abusive and obscene language, personal attacks of any kind or promotion will be removed and the user banned. Final decision will be at the discretion of the Taipei Times.