Hillary holds hard line on Iraqi pullout
POLITICAL SAVVY The former first lady is swimming against the tide of public dissatisfaction over the Iraq occupation in a classic case of political reinvention
With Americans embroiled in a heated debate over the US invasion of Iraq, Democratic Senator Hillary Clinton has taken a position considerably to the right of many in her party, including that of her ex-president husband.
An early favorite to win her party's 2008 presidential nod, the former first lady was guarded in remarks on Monday on the way forward in Iraq, just days after Democratic Representative John Murtha, a pro-military former Marine, stunned the political establishment by calling for a complete US withdrawal.
Murtha's remarks left lawmakers from both parties scrambling to stake out positions of their own, including Clinton, who expressed "the greatest respect" for the decorated Vietnam War hero, but said that pulling US troops would be "a big mistake."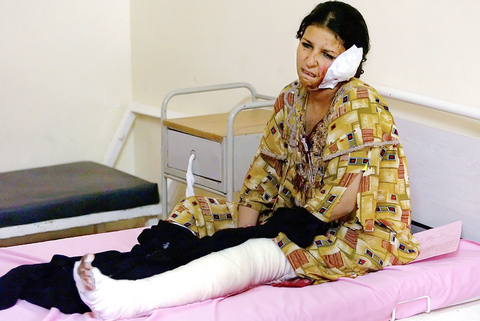 A wounded Iraqi woman rests in a hospital bed in Baghdad yesterday. The woman is one of 27 people who were wounded in a car bomb blast in the town of Mahmoudiya, south of Baghdad. Thirty people were killed in the explosion.
PHOTO: AFP
The former first lady said a decision on withdrawing from Iraq should be deferred until after national elections there next month.
"I don't think realistically we know how prepared they are until we get a government on Dec. 15," she is quoted as saying in remarks to an audience in New York, the state she represents in the Senate.
"My approach is we tell them we expect you to meet these certain benchmarks and that means getting troops and police officers trained, equipped and ready to defend their people," Clinton said in widely reported remarks.
Those comments are the latest sign that Clinton -- known during the eight years of her husband's presidency as a "bleeding heart liberal" -- has reinvented herself in the Senate as something of a hawk.
In addition to casting a Senate vote in support of the war in Iraq, she occupies a coveted seat on the powerful Senate Armed Services Committee, and has forged key alliances with various Republican conservatives in the US legislature.
Her comments advocating standing firm in Iraq come as many leading centrists within her party begin to say that it is time to gradually move toward a troop pullout.
A respected Democratic moderate, Senator Joseph Biden, this week called for some 50,000 US troops to be pulled from Iraq next year, with more troops to follow.
Meanwhile, another Democratic star, Senator Barack Obama, on Tuesday called for a "limited drawdown of US troops," combined with efforts to bolster Iraqi security forces.
For its part, the White House has lashed out at critics who have questioned its decision to go to war, saying that the flawed intelligence used ahead of the invasion was the best available at the time.
But in a sign that President George W. Bush's administration may be relenting in the face of searing criticism and plummeting poll numbers, Secretary of State Condoleezza Rice said late on Tuesday that conditions for reducing US troops deployed in Iraq could be in place "fairly soon."
Meanwhile, the Washington Post, citing unnamed military sources, reported on Wednesday that the Pentagon is tentatively planning to reduce the number of US forces in Iraq next year from more than 150,000 to fewer than 100,000.
Pundits said Hillary Clinton, now flirting with the right flank of her party and with presidential aspirations, is showing a great deal of political savvy.
"If you look at the polls carefully, they show that Americans are disaffected with the Bush administration policy in Iraq, but have very little confidence in the Democrats on that score either," said Larry Sabato, a political scientist at the University of Virginia.
Meanwhile, in Iraq, a car bomb detonated outside a hospital in Mahmoudiya, a town about 30km south of Baghdad, yesterday, killing 30 and wounding 35, a doctor said. Iraqi army Captain Ibrahim Abdeallah said the suicide bomber was targeting US military vehicles parked near the hospital.
In central Iraq, unidentified gunmen in separate attacks killed a former army colonel yesterday and ambushed a local leader of a Sunni Muslim political party, the day after a senior tribal was assassinated, Iraqi officials said.
A bodyguard for the head of the Iraqi Islamic Party branch in Khalis, 8km north of Baghdad, was wounded in a drive-by shooting yesterday. In a similar shooting, former Iraqi army Colonel Hussein Mohammed was killed late on Wednesday in Baqouba, said Ahmed Fouad, a morgue attendant.
Comments will be moderated. Keep comments relevant to the article. Remarks containing abusive and obscene language, personal attacks of any kind or promotion will be removed and the user banned. Final decision will be at the discretion of the Taipei Times.