Rita evacuees urged not to go home
Hurricane Rita pummeled east Texas and the Louisiana coast, battering communities with floods and intense winds. But residents were relieved the once-dreaded storm proved far less fierce and deadly than Katrina.
After the storm passed Saturday, authorities pleaded with the roughly 3 million evacuees not to hurry home too soon, fearing more chaos.
"Be patient, stay put," said Texas Governor Rick Perry. "If you are in a safe place with food, water, bedding, you are better remaining there for the time being."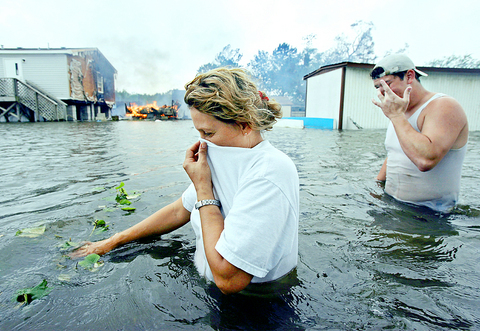 Rose Machado, left, walks in waist-high floodwater as her neighbors' trailer burns in Lafitte, Louisiana, after Hurricane Rita passed through the area on Saturday.
PHOTO: AP
In any other hurricane season, Rita might have seemed devastating. It knocked out power for more than 1 million customers, sparked fires across the hurricane zone and swamped Louisiana shoreline towns with a 4.5m storm surge that required daring boat and helicopter rescues of hundreds of people.
But the new storm came in the wake of Hurricane Katrina, with its 1,000-plus death toll, cataclysmic flooding of New Orleans and staggering destruction in Mississippi. By contrast, Rita spared Houston, New Orleans and other major cities a direct hit. By Saturday evening, the only reported death was in Mississippi, where one person was killed when a tornado that spun off the remains of the hurricane overturned a mobile home.
"The damage is not as serious as we had expected it to be," said R. David Paulison, acting director of the Federal Emergency Management Agency. "The evacuations worked."
Damage to the vital concentration of oil refineries along the coast appeared relatively light, although industry officials said it was too early to assess whether there would be an impact on oil prices. Valero Energy Corp. said its 255,000-barrel-per-day Port Arthur refinery sustained significant damage to two cooling towers and a flare stack and would need at least two weeks for repairs.
Late Saturday, two environmental cleanup workers spread booms and oil-absorbent pads along a perimeter fence at the refinery. Knee-deep floodwaters were stained with dark brown crude oil, and the odor of petroleum hung thick in the air.
Rita roared ashore Saturday morning close to the Texas-Louisiana border as a Category 3 hurricane with top winds of 193kph and warnings of up to 63.5cm of rain. By mid-afternoon, it was downgraded to a tropical storm with top sustained winds of 80kph as it moved slowly through east Texas toward Shreveport, Louisiana.
Before it weakened, Rita showed its strength across a broad region between Houston and New Orleans.
In Beaumont, trees of all sizes and power lines were down, street signs were shredded, and one brick wall of an office building had collapsed. Said Dr. Gaylon Gonzalez, a surgeon who spent the night at Christus Hospital St. Elizabeth as Rita arrived: "It sounded like a power washer hitting the windows."
Perry surveyed Beaumont by air Saturday.
"Considering it was a Category 5 storm 48 hours ago, I think we're probably pretty fortunate," he said.
The Texas Department of Transportation dispatched a 30-vehicle convoy from Beaumont to clear a debris-covered highway to the north toward Lufkin. Authorities used military helicopters and a bus to move some nursing home residents who had been stranded since Friday at an elementary school without power in the small town of Fred.
Comments will be moderated. Keep comments relevant to the article. Remarks containing abusive and obscene language, personal attacks of any kind or promotion will be removed and the user banned. Final decision will be at the discretion of the Taipei Times.