Japan remembers Hiroshima
COMMEMORATION Thousands gathered in Hiroshima yesterday to mark 60 years since a single atomic bomb killed perhaps 140,000 people
With prayers, wreaths and emotional calls for the abolition of nuclear weapons, the Japanese city of Hiroshima yesterday marked the 60th anniversary of the world's first atomic attack.
Hiroshima fell silent as a relative of one of the estimated more than 140,000 dead joined a child in ringing a bell at 8:15 am, the exact moment 60 years ago when a single US bomb flattened the southern city.
Under a scorching sun, some 55,000 people recited silent prayers and laid wreaths before a memorial to the dead within sight of the famous A-bomb dome, a former exhibition hall burned to a skeleton by the bomb's incinerating heat.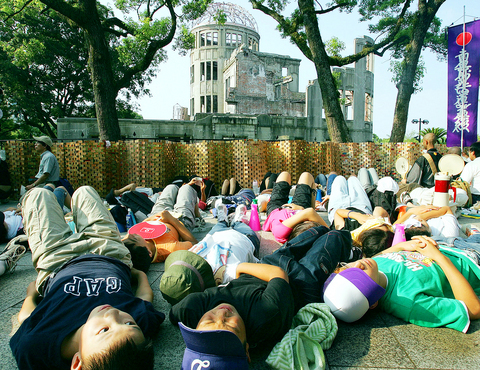 People stage a die-in in front of the Atomic Bomb Dome at the Peace Memorial Park in Hiroshima, western Japan, yesterday. Hiroshima marked the 60th anniversary of the atomic bomb attack that devastated their city.
PHOTO: AP
"Today, we are all Hibakusha," UN Secretary-General Kofi Annan said in a speech read in his name, using the Japanese word for victims of nuclear bombings, before 1,000 doves were released to fly above the dome.
Before dawn, residents of Hiroshima ranging from workers in uniform to old men walking with canes gathered at the memorial in the heart of the city to burn incense, lay flowers and say prayers for the dead.
Michie Kakimoto, a slender 79-year-old who needs a cane to walk, said she still "cannot explain" the suffering she endured on August 6, 1945.
"For more than 50 years after the war, I couldn't come here. And I still can't visit the museum," she said.
With another 5,375 survivors of the Hiroshima bombing dying in the past year, leaders recommitted themselves to keeping alive the memories of the horror 60 years ago.
Annan said that for all the pledges not to repeat the tragedy of 60 years ago, "Sadly, the world has made little progress."
The 60th anniversary of the world's first nuclear attacks comes amid tension with both North Korea and Iran, which are locked in heated negotiations with the international community over their nuclear ambitions.
"We are witnessing continued efforts to strengthen and modernize nuclear arsenals. We also face a real threat that nuclear weapons will spread," Annan said. "Without concerted action, we may face a cascade of nuclear proliferation," Annan said in the statement read by Nobuyasu Abe, the UN undersecretary for disarmament.
Hiroshima Mayor Tadatoshi Akiba accused nuclear states of "jeopardizing human survival" by their "selfish" attachment to nuclear weapons and called on the UN to take concrete action to abolish nuclear weapons by 2020.
Amid tension with neighboring nations over Japan's history, Prime Minister Junichiro Koizumi said Japan was steadfast in its post-World War II pacifism and recommitted Japan to "take the lead" to abolish nuclear weapons.
But Koizumi, a close ally of US President George W. Bush, was heckled before taking the podium by a small group of pacifists who shouted, "Koizumi, go home."
As the event ended, an elderly man yelled at him, "Prime Minister Koizumi, don't go to Yasukuni," referring to a war shrine in Tokyo the premier has visited each year in defiance of nations invaded by Japan.
The Hiroshima bombing killed more than 140,000 people either immediately or in the months that followed from horrific burns or radiation.
The US dropped a second nuclear bomb on August 9 on Nagasaki, killing another 70,000 people. Emperor Hirohito surrendered on August 15.
For 65-year-old Nobuyoshi Saeki, who was just 800m from the center of the 1945 explosion that killed 140,000 people in his city, the grief is still too much to bear in public.
"Deep down, local people want to be left alone," said Saeki, who now works as a taxi-driver. "There are a slew of events on August 6 and some of them are really like a festival. You know, it's not an amusing anniversary," he said.
"I have never been to the atomic bomb museum and I never will go as I don't want to recall it," Saeki said, echoing a phrase often heard from atomic bomb survivors.
Some 55,000 people showed up near the museum at the Hiroshima Peace Memorial Park to mourn the dead and pray for peace at 8:15 am, the exact moment 60 years ago when the bomb struck.
But dozens of people came instead at the crack of dawn, crying and praying in a more private way.
"I came to pray for peace. Recalling the war makes me tremble even now," said Shoko Okamoto, 78, who came with her granddaughter to the Hiroshima cenotaph memorial at 5am.
"It is strange that I'm still alive today when others a few meters away from me died under their collapsed houses from the bombing," she said.
At 7am, the road to the cenotaph was closed down for security reasons ahead of the main event.
"I usually visit here once a month either early in the morning or in the evening, when the site is not so crowded," said Natsuko Kawada, 80.
"I can never forget that orange flash I saw. Many of my friends died from it and many others suffered burns all over their bodies. I feel so sorry for them," she said.
Some Hiroshima survivors feel that the nation's concern over the nuclear bombings is only momentary. The Japan Broadcasting Corporation, the public network better known as NHK, broadcast the Hiroshima ceremony live for 35 minutes and after Koizumi's speech switched to a television drama and then high school baseball.
Takashi Nishikawa, 74, who prayed at dawn for his lost uncle, said he wanted Koizumi "to tackle the issue of world peace with more seriousness."
Shin Hibiki, 80, came in his wheelchair to the memorial and stared at boxes filled with the remains of four atomic bomb victims under a banner that reads, "Until we can be sure that atomic bombs are completely abandoned, we will not be able to rest in peace."
The victims, who died after the bombing, had said in their wills they did not want to be buried until nuclear weapons were abolished.
"Look at those remains. They are sacrificing their eternal rest for the cause of peace," Hibiki said.
He added angrily: "They will never be able to have their own graves in this world with nuclear weapons."
Comments will be moderated. Keep comments relevant to the article. Remarks containing abusive and obscene language, personal attacks of any kind or promotion will be removed and the user banned. Final decision will be at the discretion of the Taipei Times.