ASEAN still split on Myanmar leadership
LOGGERHEADS Older members such as the Philippines, Singapore and Malaysia say democratic change in Myanmar needs to happen first, but new members disagree
ASEAN foreign ministers said yesterday they have deferred the issue of Myanmar's controversial chairmanship of the regional trade group until at least July, saying it is up to the military-ruled country's leadership to make a decision.
At issue is Myanmar's poor human rights record, lack of democratic reform and detention of hundreds of political activists, including pro-democracy leader Aung San Suu Kyi.
The US and the EU warn they would stall funding of ASEAN development projects and boycott meetings if Myanmar is allowed to take its turn in charge next year.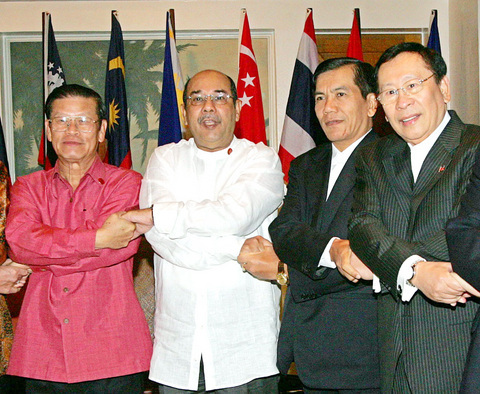 From left to right, Laotian Deputy Prime Minister Somsavat Lengsavad, Malaysian Foreign Minister Syed Hamid Albar, Myanmar's Foreign Minister Major General Nyan Win and Philippine Foreign Secretary Alberto Romulo link arms yesterday before the start of an ASEAN meeting in Mactan, Philippines.
PHOTO: REUTERS
The foreign ministers found themselves in a quandary because one of ASEAN's basic tenets is noninterference in each country's internal affairs. Singapore Foreign Affairs Minister George Yeo called it "an unpleasant family problem."
"There is a reluctance on the part of the ASEAN to say: `You don't chair. Move on to the next person,' because once you establish that precedent, there will be problems downstream," Yeo said. "Understandably, the foreign ministers would rather not make that move, but we communicated our concerns."
Malaysian Foreign Minister Syed Hamid Albar said there was no indication what Myanmar will do.
"We leave it up to Myanmar to make their sovereign decision," he said.
Trying to put a veneer of unity on the divisive issue, Laos Foreign Minister Somsavat Lengsavat said the ASEAN ministers decided that their annual informal retreat wasn't the proper place to decide the issue, which will be discussed further at their ministerial meeting in Laos.
"If you insist on asking about Myanmar, you better go to Vientiane," Somsavat told reporters at a news conference wrapping up the retreat.
While Somsavat said twice that the issue had not been on the agenda here, Syed Hamid said it was discussed during the coffee break for 45 minutes, when countries expressed concerns about Myanmar's failure to implement a roadmap to democracy.
Myanmar Foreign Minister Nyan Win said he would convey the concerns to his leader, Syed Hamid said.
Cambodia, Laos and Vietnam reportedly back Myanmar's right to the chairmanship. Malaysia, the Philippines and Singapore have indicated they want to see progress in implementing reforms first.
Philippine Foreign Secretary Alberto Romulo was visibly upset as he left the closed-door meeting and did not reply to questions from reporters about Myanmar.
Romulo had said he would reiterate calls for Myanmar to free Nobel Peace laureate Suu Kyi, craft a Constitution with input from the political opposition, and allow a UN special envoy to revisit.
"What we don't want is for ASEAN to be dragged into their domestic, political process which is at a critical, sensitive phase," Yeo said. "It is their turn to host, by right. But we know that looking further down the road, there will be a problem. So if we can avert the problem now, early, we should.
"We recognize while we tell them to release Aung San Suu Kyi and put a time frame on the roadmap, in the end, whether this all will lead to great joy or tragedy, it is the Myanmar people and not the rest of us who will bear the consequences," he said.
Myanmar could voluntarily give up the role, but that's an option Yangon was unlikely to heed, the diplomat said, and ASEAN could also allow Myanmar to assume the leadership unconditionally.
Comments will be moderated. Keep comments relevant to the article. Remarks containing abusive and obscene language, personal attacks of any kind or promotion will be removed and the user banned. Final decision will be at the discretion of the Taipei Times.