Indonesian leaders urge peace talks
CATALYST FOR TALKS Indonesian leaders and parliament are discussing how to end Aceh's ongoing conflict, and give the province autonomy
Indonesia's president yesterday offered wide-ranging autonomy to separatist rebels in tsunami-devastated Aceh province and promised other concessions in upcoming peace talks. \nPresident Susilo Bambang Yudhoyono said he had offered rebel leaders "new talks for ending the conflict peacefully and wisely." \n"I heard that the response is positive," he said in an interview with CNBC Asia Pacific television. \nThe warring sides are scheduled to meet in Helsinki, Finland, today to try to hammer out a formal cease-fire. Indonesia wants the talks to be followed by more substantive negotiations on the status of Aceh. \nThe Free Aceh Movement, known by the Indonesian acronym GAM, has been fighting since 1976 for independence for the Holland-sized province of 4.1 million people on the northern tip of Sumatra island. A previous truce collapsed in 2003 when the Indonesian military launched a new offensive against the insurgents. \nAt the time, Indonesia's parliament approved a special autonomy package for the resource-rich province which would give its people self-government while keeping them within Indonesia, but the measure was never implemented because of the fighting. \nSince assuming office 100 days ago, Yudhoyono has repeatedly said that he wished to restart the peace process, and last month's tsunami, which badly damaged the province, has provided a catalyst for the talks. \n"I have to continue our talks with GAM leadership with the hope that this momentum can be used wisely and properly by GAM as well as my government to terminate the conflict and to unite, rebuild Aceh peacefully," he said. \n"If we agree to terminate the conflict based on the special autonomy status, I will give some concessions to them," Yudhoyono said, adding that these would include an amnesty for the rebels and measures to re-integrate rebel fighters. \nMediators at the talks have said the rebels are unlikely to agree to anything less than an internationally supervised independence referendum like the one that ended Indonesian rule in East Timor in 1999. \nPro-independence sentiments are very strong in Aceh and Jakarta's rule is widely despised, making it likely that any free vote would result in a landslide victory for the separatists. \nAnother key rebel demand has been the full withdrawal of Indonesian forces. \nIn the interview, Yudhoyono said the military presence would likely decrease after a cease-fire, but that some troops would remain. \n"Actually, it depends on how could we terminate the conflict," he said. "Because, after all, security is needed by our brothers and sisters in Aceh. That's the objective of deploying and employing military units in Aceh right now." \njapan's aid \nIn other developments, two Japanese military hovercraft landed in tsunami-shattered Aceh yesterday, bringing a water purification plant and medical supplies to set in motion Japan's largest-ever overseas relief effort. \nThe craft beached in front of around 50 curious residents in Banda Aceh, the provincial capital and one of the areas hardest-hit areas by the Dec. 26 quake and tsunami. \nThe Japanese operation began as other foreign militaries, including the US, began scaling back their efforts in Aceh province, on the northern tip of Sumatra island. \nThe 20-meter-long hovercraft, propelled by two huge aft turbines, skimmed the surface of the water as they traveled at high speed from their mother ship, Kunisaki, anchored 2km off Banda Aceh. \nVillagers stood awe-struck by the sight of the huge craft, which are able to travel over land or sea by floating on a cushion of air. \n"I've never seen anything like it," said one villager, Muhamad Yunus, 53. \nBoth hovercraft went as far as 20 meters inland, sending sand flying in every direction as they unloaded equipment. A lone Japanese escort helicopter followed the hovercraft in, and buzzed overhead. \nOne craft carried three trucks and the other transported two more heavy vehicles and a large green tank, the heart of the water purification plant that will be set up in a refugee camp. \nJapan sent about 1,000 soldiers for relief operations in Aceh, the largest-ever overseas relief effort by the Japanese military. They came aboard Kunisaki and two other ships, the destroyer Kurama and supply ship Tokiwa that are anchored close by. \nAround 230 personnel will arrive in Banda Aceh yesterday and through today, with the remaining 770 reaching land in the next few days, said Japanese military spokesman Lieutenant Colonel Hinoji Yamashita. \nJapanese aid will focus on providing medical aid and disease prevention, he said without elaborating. \nTokyo has also sent three Chinooks and two multipurpose UH-60 helicopters, and three SH-60 helicopters to deliver aid to remote areas but the bulk of the troops are expected to remain in and around Banda Aceh, helping in refugee camps here. \nThe Indonesian government says around 100,000 people died while more than 130,000 others are missing from the quake and tsunami. More than 400,000 are also living in squalid refugee camps without proper sanitation.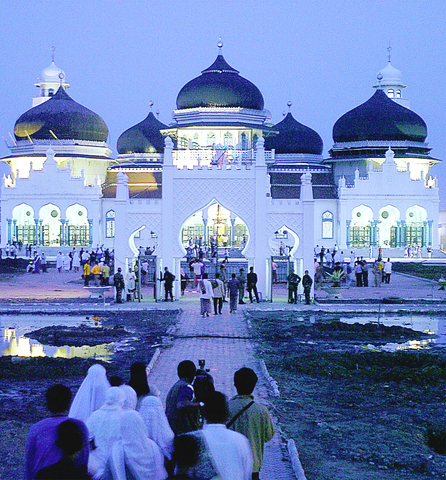 Acehnese people come to the Baiturrahman mosque for Eid-Al-Adha prayers in Banda Aceh last week. Indonesian President Susilo Bambang Yudhoyono encouraged the shattered survivors of last month's killer tsunami that devastated Aceh province to rebuild for a better future.
PHOTO: AFP
Comments will be moderated. Keep comments relevant to the article. Remarks containing abusive and obscene language, personal attacks of any kind or promotion will be removed and the user banned. Final decision will be at the discretion of the Taipei Times.