Cleric's role central in Iraq's election
STRONG INFLUENCE Though he's not a candidate in Sunday's national elections, Shiite cleric Ali al-Sistani backs candidates through which he exercises power
Thousands of election posters bearing his image are plastered on walls, concrete blast barriers, shop and car windows. His name comes up in almost any conversation about next Sunday's historic vote. Many say they'll vote just because he's said they should. \nYet he isn't even running. \nGrand Ayatollah Ali al-Sistani is by far the dominant figure in the vote and the slate of candidates he has endorsed is likely to fare best in Iraq's national elections. \nIt's a reflection of the vast influence al-Sistani has gained in the relatively short time since former president Saddam Hussein's ouster 21 months ago. But it also raises questions about the consequences of one man mustering so much power in a country that lacks democratic traditions. \n"The involvement in politics by the religious leadership has given terrorists a pretext for their violence and sectarianism," said Ali Yasseri, a Shiite activist and a Baghdad University political science researcher. \nIraq's Shiites are embracing the weekend vote in the hope that it would give them the power they have been denied for generations by the Sunni Arabs. Minority Sunni Arabs are not expected to participate in large numbers because they fear attacks by insurgents or to protest the presence of foreign troops in Iraq. \nReligion moved to the heart of politics in postwar Iraq, with clergy-laymen alliances proving to be far more effective than mainstream political parties. In this new climate, al-Sistani stands head and shoulders above all others. \nHis influence is likely to increase when, as expected, voters elect a Shiite-dominated parliament on Sunday. Potentially, that will give the Iranian-born cleric the leverage he needs to influence the writing of the country's permanent constitution, which will be undertaken by the 275-seat assembly and put to a nationwide vote later this year. \nA close al-Sistani aide acknowledged the cleric's concern about the constitution, saying that he would not have played such a prominent role in the vote had it not been for his belief that the assembly's key task was to draw up a constitution. \n"This is a very important election," Hussain al-Shahristani, a nuclear scientist once jailed by Saddam, told reporters. "The assembly will write the constitution that will guarantee the future of Iraq. He wouldn't have done this if it was just another election," said Shahristani, himself a candidate running on the slate endorsed by al-Sistani. \nThe white-bearded cleric is expected to plunge anew into politics when the assembly begins to draft the constitution which, if adopted in a referendum scheduled to be held by Oct. 15, will be the basis for a second general election before Dec. 15. \nKey issues like the role of Islam and the extent of federalism to be allowed in Iraq are expected to be tackled in the new constitution. \nAl-Sistani has so far remained noncommittal on both issues, but has in the past suggested that his wish to see Iraq remain as one united nation leaves him in disagreement with Kurdish aspirations for self-rule. He also is known to be in favor of declaring Islam as the official faith of the country. \n"The religious leadership has repeatedly stated that it has no wish to involve itself in political work and prefers for its clerics not to assume government positions," al-Sistani has said in a fatwa, or edict, designed to put to rest speculation that he wanted Iraq to have an Iranian-style clerical regime. \nAl-Sistani, believed to be in his mid-70s and with a heart ailment, has forced Washington at least twice since Saddam's ouster to modify or altogether abandon political plans for postwar Iraq so as to accommodate his demands for elections. \n"Because of his repeated calls for election, he's become a symbol for all Iraqis," said Salama Khafaji, a prominent female Shiite politician and a candidate for the National Assembly in Sunday's election. \nAl-Sistani left his native Iran in 1952 and has since resided in the Shiite holy city of Najaf south of Baghdad. He came to national prominence when he succeeded his mentor Abu al-Qasim al-Khoei, who died in 1992. The mystery killing of a rival cleric, Mohammed Sadiq al-Sadr, in 1999 left him as Iraq's most senior Shiite cleric. \nAl-Sistani rarely leaves his Najaf home, where he receives tribal leaders and dignitaries who come for advice on anything from politics to mundane personal matters. He grants no media interviews, but answers questions on religious matters on his Web site.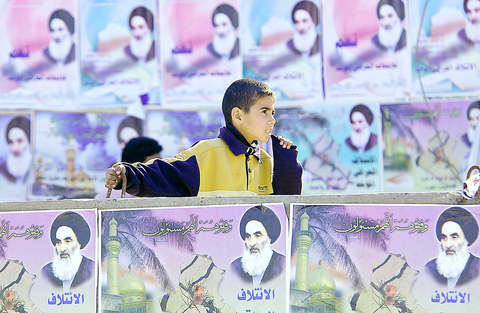 A young Iraqi street vendor stands in front of a wall covered with electoral posters featuring prominent cleric Ali al-Sistani, in Baghdad last week. Al-Sistani is by far the most dominant figure in the election and the slate of candidates he has endorsed is likely to fare best in Iraq's national elections.
PHOTO: AP
Comments will be moderated. Keep comments relevant to the article. Remarks containing abusive and obscene language, personal attacks of any kind or promotion will be removed and the user banned. Final decision will be at the discretion of the Taipei Times.