UN finishes disaster relief pact
NEW MEASURES Officials concurred on the need for a tsunami warning system for the Indian Ocean, but were still squabbling over climate change's impact
Hundreds of delegates to a UN conference on disasters put the final touches on a pact yesterday that was to reflect strong support for the world body to create a tsunami alert system and help poor nations gird against cyclones, floods and other natural calamities. \nBut disputes over the wording of the document have underscored differences over just what causes such disasters. \nThe five-day meeting that wraps up today in Kobe had been reorganized to focus on finding money and sketching out details for a tsunami warning system for southern Asia, following the Dec. 26 earthquake and killer waves that hammered the Asian and African coastlines. Figures for the number of dead vary widely, from 157,780 to 221,110. \nOn Thursday, officials from the richest nations pledged roughly US$8 million to begin work on a new tsunami alert network in the Indian Ocean, expected to cost US$30 million and be operational by the middle of next year. A tsunami network in the Pacific, set up in 1965, now protects some 26 nations. \nScientists and officials have agreed on the merits of an Indian Ocean system, which could have allowed coastal residents to flee to safety had it been in place last month. Many support setting up a network that also monitors the Mediterranean, Caribbean and other parts of the globe. \nHowever, they have disagreed about other issues on the conference agenda. \nThe 25-nation EU has backed poor island nations threatened by storms and rising ocean waters in pushing for a UN action plan -- expected to be adopted at the Kobe conference -- that would refer to climate change as a possible cause of future natural disasters. \nBut the US delegation, along with officials from Australia and Canada, has demanded that those references be deleted. Negotiations late on Thursday lasted into the early morning hours of yesterday. \n"Climate change has become a very political issue," said Maryam Golnaraghi, who heads disaster-prevention at the Geneva-based World Meteorological Organization. \nA UN-organized group of scientists, the Intergovernmental Panel on Climate Change, said in a recent assessment of climate science that rising global temperatures could lead to more extreme weather patterns that trigger cyclones and droughts. \nScientists attribute the trend to higher levels of carbon dioxide and other so-called greenhouse gases that occur naturally but have been boosted by factories and cars that burn fossil fuels. \nThe Kyoto Protocol, which takes effect Feb. 16, aims to limit emissions of those gases, which can trap heat in the atmosphere. US President George W. Bush has rejected the Kyoto Protocol, however, citing economic concerns. \nSalvano Briceno, who heads the UN action plan for preventing disasters, played down the battle over the "framework for action." The draft document had cited climate change as a factor in natural disasters and called for officials to identify "climate-related disaster risks." \n"It is not the intention of the US or any of the other nations to delete reference to climate change. The issue was whether it [climate change] should be referred to so many times," Briceno, director of the UN International Strategy for Disaster Reduction, told reporters on Thursday.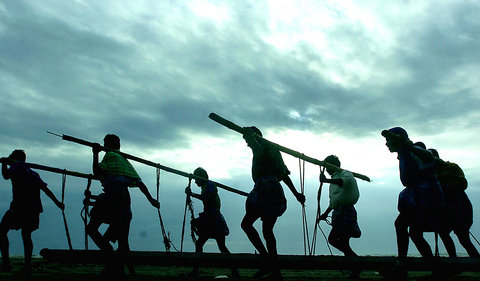 Indian laborers shift a lamp post with the help of bamboo and rope in the tsunami hit fishing village of Nagapattinam, around 325km south of Madras, yesterday. After almost a month since the tsunami disaster, the government and several NGOs are working for the reconstruction and rehabilitation of victims in the tsunami hit areas. The death toll of the Asian tsunamis rose above 226,500 after the Indonesian Government confirmed the deaths of thousands of people previously listed as missing.
PHOTO: AFP
Comments will be moderated. Keep comments relevant to the article. Remarks containing abusive and obscene language, personal attacks of any kind or promotion will be removed and the user banned. Final decision will be at the discretion of the Taipei Times.