Gunmen kill governor of Baghdad province
BLOODY CAMPAIGN The governor is the most senior official to have died since the president of the former Iraqi Governing Council was killed last May
Gunmen assassinated the governor of Baghdad province -- the highest ranking government official to be slain since May -- and six of his bodyguards yesterday, and a suicide tanker-truck bomber killed 10 people at an Interior Ministry commando headquarters in western Baghdad, the latest in a steady drumbeat of insurgent violence ahead of Jan. 30 elections. \nGovernor Ali al-Haidari's three-vehicle convoy was passing through Baghdad's northern neighborhood of Hurriyah when unidentified gunmen opened fire, said the chief of his security detail, who asked only to be identified as Major Mazen. \n"Our convoy was moving in Hurriyah and they came from different directions and opened fire at us," Mazen said. \nAl-Haidari, who was the target of another assassination attempt last year that killed two of his bodyguards, worked closely with the US-led multinational forces in Baghdad on rebuilding the capital. \nHe is the highest-ranking Iraqi official killed since the former president of the now defunct Governing Council, Abdel-Zahraa Othman, better known as Izzadine Saleem, was assassinated in May. \nAl-Qaeda in Iraq, led by Iraq's most wanted terrorist Abu Musab al-Zarqawi, claimed responsibility for al-Haidari's assassination and the tanker-truck explosion, a statement posted on the Internet said. \n"We tell every traitor and supporter of the Jews and Christians that this is your fate," said the statement on a Web site known for carrying militants' claims. \nAlso yesterday, a tanker truck packed with explosives detonated near an interior ministry commando headquarters in western Baghdad, killing 10 people and wounding about 60, the Interior Ministry said. \nA suicide driver rammed the truck at an Iraqi police checkpoint near the headquarters, which is also near an entrance of the Green Zone, the heavily fortified area in the center of Baghdad that houses both the US embassy and Iraqi government offices. Eight Iraqi commandos and two civilians were killed, the interior ministry said in a statement. \nTwo US servicemen were also killed in Iraq yesterday. A roadside bomb attack killed one US 1st Infantry Division soldier and wounded another near Balad, 80km north of Baghdad. A US Marine assigned to the 1st Marine Expeditionary Force was also killed in action in western Iraq's restive Anbar province, which includes the former insurgent stronghold of Fallujah. \nLater, a roadside bomb killed three Iraqi National Guardsmen and wounded two near Baqouba, 57km northeast of Baghdad, US military spokesman Neal O'Brien said. \nIn an interview published yesterday, al-Haidari said that infrastructure in Baghdad was improving as a result of cooperation between the governor's office and multinational forces. \nHowever, he had not always sided with the Americans. In October, he demanded that the US leave the Green Zone. \nYesterday's attacks came a day after violence that saw three car bombs and a roadside attack, one near the prime minister's party headquarters in Baghdad and others targeting Iraqi troops and a US security-company convoy. At least 16 people were killed on Monday. \nBritain's Foreign Office said yesterday that three Britons and an American were killed a day earlier in a bombing near the Green Zone. \nAndrew Marshall, spokesman for US security firm Kroll Inc, said two British employees were killed in Baghdad on Monday when a suicide bomber attacked their vehicle. The blast also killed a third Briton and an American.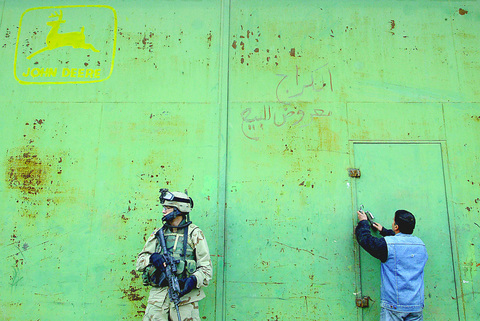 An Iraqi worker locks his parking lot after US soldiers from 1st Battalion, 24th Infantry Regiment checked inside during a patrol in an industrial area looking for illegal weapons and explosives, in the northern restive city of Mosul, on Monday. US troops are conducting several patrols and raids in the region to reinforce security ahead of the landmark elections scheduled for Jan. 30.
PHOTO: AFP
Comments will be moderated. Keep comments relevant to the article. Remarks containing abusive and obscene language, personal attacks of any kind or promotion will be removed and the user banned. Final decision will be at the discretion of the Taipei Times.