US forces in Iraq put on high alert
CONTINUED DANGER A series of attacks on Wednesday highlighted the possibility of even more violence on the anniversary of the Baath party seizing power in 1968
US-led forces in Iraq were on high alert yesterday, the anniversary of the 1968 seizure of power by Saddam Hussein's Baath party.
The death of a US soldier in an attack Wednesday on a military convoy highlighted the continuing danger. His death was the 147th since US troops invaded Iraq on March 20, tying the number of US dead in the 1990-1991 Gulf War and raising alarm about the occupation's high cost in human life.
A top US general admitted US forces were taken by surprise by the the total disintegration of Iraq's army and police force at the end of the war, while UN Secretary General Kofi Annan called on the world to help stabilize the devastated country.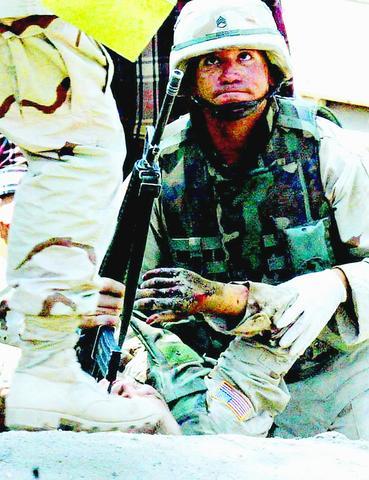 Several US soldiers try to save a seriously wounded soldier at a bombing site in Baghdad on Wednesday. An Iraqi man threw a grenade at the patrolling US vehicle, wounding the soldier and three Iraqi children.
PHOTO: AP
A series of attacks in and around Baghdad Wednesday targeting coalition forces also left at least six US soldiers wounded as troops expressed frustration with a situation in which one soldier said troops were exposed "like walking ducks."
A surface-to-air missile was fired on a US C-130 military transport plane at Baghdad airport but missed its target, in what was thought to be the first attack of its kind since the end of the US-led war.
And a pro-US governor was killed in northeastern Haditha province, as Iraqis linked to coalition forces increasingly become the prey of Saddam loyalists.
US officials had warned regime loyalists might take advantage of anniversaries Wednesday of the date Saddam became president in 1979 and yesterday when the Baathists seized power in 1968 to launch strikes on troops.
Specialist David McCall, in a truck at the back of the line of vehicles attacked west of Baghdad, said operations in Iraq were sapping morale.
"We need to get out of here. We're just walking ducks, sitting in trucks. We can't defend ourselves," he said.
The area west of Baghdad, a restive Sunni Muslim belt, has been gripped by violence against US forces battling hard to restore security since the war to topple Saddam ended, but faced with daily attacks on their patrols.
In Washington, Central Command chief General John Abizaid said the quick collapse of the Baath regime took US leaders by surprise, and acknowledged his troops were facing guerrilla tactics.
"We're seeing a cellular organization of six to eight people armed with [rocket propelled grenades], machine guns, etc., attacking us at some times and places of their choosing and other times we attack them at times and places of our choosing," said Abizaid.
"I think describing it as guerrilla tactics being employed against us is ... proper ... in strictly military terms."
Meanwhile, Annan said responsibility for stabilizing the situation in Iraq rested with all countries.
"All of us should accept the responsibility to stabilize Iraq. It is in the interest not only of Iraq," but of the entire region, he said after closed-door consultations with the Security Council.
And an opinion poll released in Britain found that half the people of Baghdad believe the US and Britain were right to invade Iraq, but most say the city is a more dangerous place since Saddam's regime fell on April 9.
The YouGov survey, commissioned by Britain's independent Channel 4 News network and The Spectator magazine, found 50 percent thought the war was right, as against 27 percent who said it was wrong.
But there was deep suspicion about the motives for invading.
Almost half -- 47 percent -- said that they thought the conflict was about oil, and 41 percent said it was to help Israel, compared with 23 percent who said it was to liberate the Iraqi people and just six percent who thought it was to deal with Iraq's pursuit of nuclear, biological and chemical weapons.
A significant 47 percent expressed no preference for rule by the Americans or rule under Saddam Hussein, with 29 percent saying they preferred the US and nine percent favoring Saddam.
Three-quarters said Baghdad was more dangerous since the US-led invasion.
Comments will be moderated. Keep comments relevant to the article. Remarks containing abusive and obscene language, personal attacks of any kind or promotion will be removed and the user banned. Final decision will be at the discretion of the Taipei Times.