US open to troops for Liberia
PEACEMAKING The US president said he is waiting for assessment reports before making a final decision on sending his military to the turbulent country
US President George W. Bush indicated he was open to a "limited" deployment of US troops to prop up a ceasefire in turbulent Liberia.
Bush said on Monday he had a "a meeting of minds" with visiting UN Secretary-General Kofi Annan, who has been pressing him to intervene in the West African nation, where protracted warfare has destabilized the region.
"Any commitment we have would be limited in size and limited in tenure," Bush said, adding that he was waiting for final assessment reports from US teams in West Africa before making a final decision.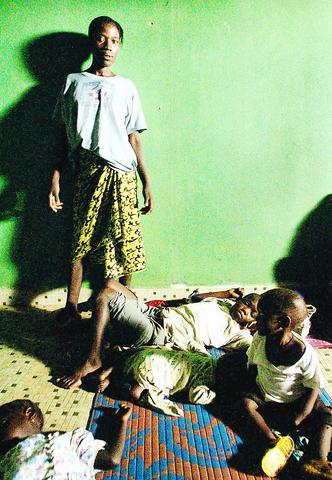 A mother, who did not wish to give her name, stands next to her children in one of the rooms displaced Liberians have sought shelter in at the football stadium in the Liberian capital Monrovia Monday. The Red Cross estimates 33,000 displaced people are currently living in the stadium, mostly in darkened rooms and corridors under the stands.
PHOTO: AP
Just back from a trip to Africa, Bush said he told Annan that "we want to help" in bringing peace to Liberia and that for US troops to participate, Liberian President Charles Taylor must leave. Taylor has been blamed for fomenting warfare in the region, particularly in neighboring Sierra Leone.
Bush apparently is waiting to see whether the regional grouping, the Economic Community of West African States (ECOWAS), can organize some 4,000 or so troops, participants in the meeting said. Any US contribution would be well under 2,000 soldiers, they added.
"What I am telling you is we want to help ECOWAS. It may require troops. But we don't know how many yet. And therefore, it's hard for me to make a determination until I've seen all the facts," Bush told reporters.
Annan outlined a more detailed sequence for a Liberia operation, saying ECOWAS would initially send 1,000 to 1,500 troops. Then Taylor would leave, while at the same time US troops would arrive as well as more soldiers from West Africa.
During this period, the UN would organize a peacekeeping force of "blue helmets."
"And once the situation is calm and stabilized, the US would leave and the UN peacekeepers will carry on the operation," Annan said.
None of the American peacekeepers would be under UN command.
Some UN officials thought UN peacekeepers would arrive in about six months but US sources said they doubted Bush would allow American troops to stay in Liberia that long.
Nigeria, the backbone of ECOWAS, wants 3,500 US troops but the sources said this was far too high for the administration.
At the same time, a ceasefire last month between rebels and government troops appears to be holding only because of anticipation of US troops in Liberia, founded 150 years ago by freed American slaves.
Annan came to Washington with his top officials to discuss the Middle East, postwar Iraq, the Congo conflict, AIDS and a US$1 billion loan the UN wants from Washington to renovate its deteriorating Manhattan headquarters.
Meanwhile, Taylor, in yet another interview, said he expected to leave Liberia shortly for Nigeria, which has offered him asylum. But he gave no date and left open the possibility of going home again.
"Well, I'm not giving it any time frame," he told Fox News.
"I believe that my time is in the hands of God; only God will determine when that time is appropriate."
Asked about US intervention, Taylor said, "You do not come into a country, drive its president out, and bring a band-aid approach to this country."
Comments will be moderated. Keep comments relevant to the article. Remarks containing abusive and obscene language, personal attacks of any kind or promotion will be removed and the user banned. Final decision will be at the discretion of the Taipei Times.