Comic focuses on father of Taiwanese folk music
CULTURE IN FOCUS: A National Taipei University of Technology exhibit showcases student art that draws inspiration from Taiwanese musical and literary figures
A comic on the songwriting process of the father of Taiwanese folk music, Teng Yu-hsien (鄧雨賢), is to be featured at a National Taipei University of Technology exhibit starting on Sunday, the university said yesterday.
The Cultural Vocation Department's graduation exhibition "Re-creation," which runs until Jan. 19 at the Bopiliao Historic Block (剝皮寮歷史街區) in Taipei's Wanhua District (萬華), includes the comic art from student Huang Yu-ting (黃郁婷), as well as 33 additional pieces from other students, the school said.
The exhibition's theme is the endless flow of life, and would showcase everyday objects, craftsmanship and various forms of human interactions, university president Wang Hsi-fu (王錫福) said.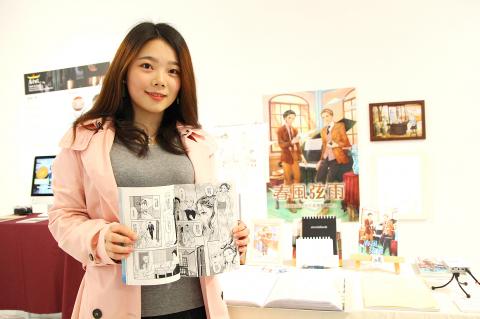 National Taipei University of Technology student Huang Yu-ting holds up her comic artwork Spring Breeze, Strings' Talk in an undated photograph.
Photo courtesy of National Taipei University of Technology via CNA
Huang's comic work Spring Breeze, Strings' Talk (春風弦語) drew inspiration from Teng, whose popular songs, such as Spring Breeze (望春風) and Flowers in the Rainy Night (雨夜花), are sung in Hoklo (commonly known as Taiwanese).
To understand his songwriting process, Huang interviewed Teng's family and folk music experts, reviewed research papers, watched TV dramas and studied the process of making vinyl records, she said.
Writing the script was the most time-consuming part of the project, as she wanted to capture the personality, emotion and conversations of the characters, which were difficult to find in research papers, she said.
Students Liu Man-ling (劉曼菱) and Tang Wei-chen (唐惟真) drew inspiration for their bamboo weaving project from the works of Taiwanese writer Lin Hai-yin (林海音), they said.
They studied with bamboo-weaving master Chang Hsien-ping (張憲平), and used bamboo-woven lights to embody the social restrains put on women living during the end of the Qing Dynasty through the beginning of the Republic of China, they said.
Women in this period showed courage to break free from a male-dominated society and demanded rights for themselves, they added.
Student Tseng Yu-fang (曾郁芳) combined the local culture of her hometown — Changhua County's Huatan Township (花壇), famous for its brick production — in her design of the traditional "four treasures of the desk": the brush, ink, paper and ink stone.
Red bricks are a vintage building material that gives off a sense of warmth, Tseng said, adding that she created a paperweight with the words "groom" and "bride" written in oracle bone script, a form of ancient Chinese characters.
The work combines red brick carvings and traditional motifs, and has cultural, aesthetic and functional meanings, she said.
Comments will be moderated. Keep comments relevant to the article. Remarks containing abusive and obscene language, personal attacks of any kind or promotion will be removed and the user banned. Final decision will be at the discretion of the Taipei Times.