TMU exhibition uses VR with national treasures
Taipei Medical University (TMU) is featuring digitized artworks from the National Palace Museum in an exhibition where visitors use augmented reality (AR) and virtual reality (VR) facilities to appreciate national treasures such as the Shueishalian Trail (水沙連古道) or study patterns on ancient bronze vessels.
The National Palace Museum Pop-Up Exhibition, held on the first floor of the university's Xing-Chun Building, runs until Wednesday next week, the university said in a news release yesterday.
In addition to AR and VR, the exhibition showcases cloud learning and interactive teaching, allowing visitors to immerse themselves in virtual surroundings that incorporate scenes from museum paintings, it said.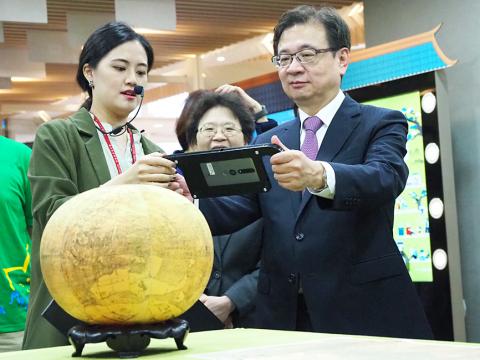 Taipei Medical University president Lin Chien-huang uses augmented reality technology to examine an ancient bronze artwork collected by the National Palace Museum in an undated photograph.
Photo courtesy of the Taipei Medical University
The digital technology allows visitors to appreciate the art in a different way, it said, adding that people can examine the structure and patterns of ancient bronze vessels used for wine storage with a proximity that would have not otherwise been possible.
Over the past few years, the university has been promoting the use of digital technologies such as AR and VR for creative pedagogy, hoping to encourage students to embark on independent study remotely to enhance their interdisciplinary knowledge, university president Lin Chien-huang (林建煌) said.
Interactive games and do-it-yourself experiences offered in the exhibition can spark the imagination and creativity of the students and faculty, and bring more of the arts and humanities into the university, Lin said.
Since the university signed a memorandum of understanding with the museum in April last year, several university courses have been taught on the museum grounds, it said, adding that some students have become familiar enough with the museum to give tours to university faculty and international students.
The university's Center for Arts and Humanities, which earlier this year received a subsidy from the museum, has launched a pilot project that is developing community healthcare lesson plans that combine museum resources with medical expertise, and that takes groups of senior citizens on tours of the museum, it said.
Comments will be moderated. Keep comments relevant to the article. Remarks containing abusive and obscene language, personal attacks of any kind or promotion will be removed and the user banned. Final decision will be at the discretion of the Taipei Times.