Japan still hopes for lift on ban: official
BACK BURNER: A Japan relations official confirmed that a platform to discuss trade and investment has been put on hold due to Taiwan's ban on certain Japanese food imports
Japan at a bilateral meeting reiterated its hope that Taiwan could lift an import ban on food products from five Japanese prefectures, but understands that Taiwanese voiced their collective opposition to the idea in a referendum last week, the Taiwan-Japan Relations Association said yesterday.
Japan said it hoped that Taiwan could lift the ban based on scientific evidence, association deputy secretary-general Lin Ching-hung (林慶鴻) told a news conference at the conclusion of the two-day annual Taiwan-Japan trade and economic meeting in Taipei.
"In response, we told our Japanese counterparts that according to the referendum results, Taiwanese only want Japanese food products that are safe to consume and that the government will handle the matter in accordance with the Referendum Act (公民投票法) and the Act Governing Food Safety and Sanitation (食品安全衛生管理法)," Lin said.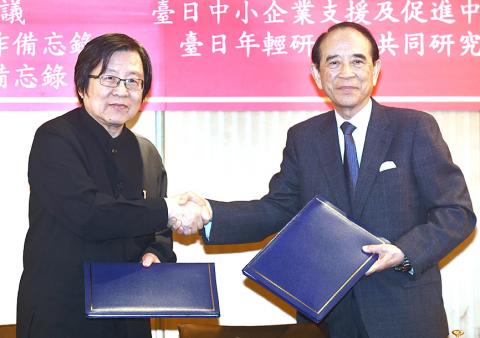 Taiwan-Japan Relations Association President Chiou I-jen, left, yesterday shakes hands with Japan-Taiwan Exchange Association Chairman Mitsuo Ohashi at an agreement and memorandum signing ceremony closing the 43rd annual Taiwan-Japan trade and economic meeting at the Ambassador Hotel in Taipei.
Photo: Liao Chen-huei, Taipei Times
An official who attended the meeting said that Japanese representatives also mentioned China's decision on Wednesday to partially relax its import restrictions on Japanese food products imposed after the 2011 Fukushima Dai-ichi nuclear disaster, by allowing the import of rice produced in Niigata Prefecture, effective immediately.
The official spoke on condition of anonymity.
Beijing's new policy came just days after a referendum initiated by the Chinese Nationalist Party (KMT) to maintain the import ban on Saturday last week received 7,791,856 votes in favor, representing 78 percent of votes cast, further tying the hands of the Democratic Progressive Party (DPP) administration, which has sought to relax the ban to bolster Taiwan-Japan relations.
Asked whether attendees had echoed Japanese Minister of Foreign Affairs Taro Kono, who on Thursday said that his government did not rule out taking the issue to the WTO, Lin answered in the negative.
Association Secretary-General Chang Shu-ling (張淑玲) said that it and the Ministry of Foreign Affairs would continue discussions with Japan about the referendum results and possible actions that Tokyo could take.
"We will do our utmost best to seek understanding on issues where the two sides have failed to reach a consensus," Chang said, adding that neither Taipei nor Tokyo wants to see a single issue hindring the development of bilateral ties.
Trade and economic relations between Taiwan and Japan remain close and strong, she said, citing an agreement and four memorandums of understanding inked after the meeting.
However, Lin confirmed that the Taiwan-Japan Economic Partnership Committee, which was established in 2013 as a platform for discussing economic, trade and investment issues, has not been operational.
Then-minister of foreign affairs David Lee (李大維) in December 2016 said that the committee had been put on a back burner due to the import ban.
As for Taiwan's oft-stated wish to accede to the Japan-led Comprehensive and Progressive Agreement for Trans-Pacific Partnership, Chang said that Taiwanese representatives tried to express that hope to their Japanese counterparts through different channels during the meeting.
"We hope that Japan could offer us more assistance, including through exchange of information," she said.
Earlier, association President Chiou I-jen (邱義仁) and his Japanese counterpart, Japan-Taiwan Exchange Association Chairman Mitsuo Ohashi, signed an agreement on mutual recognition of authorized economic operators.
They also inked memorandums that promote joint research between young Taiwanese and Japanese academics, cooperation between the two nations' small and medium-sized enterprises, exchange of information on granted patent applications and collaboration on quality management for medical equipment.
Comments will be moderated. Keep comments relevant to the article. Remarks containing abusive and obscene language, personal attacks of any kind or promotion will be removed and the user banned. Final decision will be at the discretion of the Taipei Times.