2018 ELECTIONS: Hsieh affirms his role in hostage crisis
Representative to Japan Frank Hsieh (謝長廷) yesterday said that it was he — not Chinese Nationalist Party (KMT) New Taipei City mayoral candidate Hou You-yi (侯友宜) — who in 1997 entered the residence of then-South African military attache McGill Alexander, negotiated with notorious kidnapper and convicted murderer Chen Ching-hsing (陳進興) and rescued the envoy and his family, whom Chen had held hostage.
Hsieh made the remarks in response to media queries about a comment made by former Presidential Office secretary-general Yeh Chu-lan (葉菊蘭).
Yeh came under fire online for saying that Hsieh was the key figure behind Alexander's family being released and accusing Hou of attempting to "take the credit" for the hostage crisis when he mentioned the incident at a campaign rally on Sunday.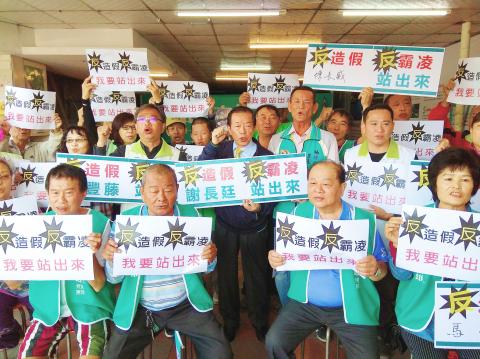 Representative to Japan Frank Hsieh, center, and supporters hold boards calling for opposition to fake news and bullying at a campaign event in Kaohsiung yesterday.
Photo: Hung Ting-hung, Taipei Times
Hsieh, a lawyer, did not hold any public office at the time, while Hou was the Taipei Police Criminal Investigation Division chief sent to apprehend Chen.
Chen had demanded that Hsieh negotiate with him and promise to represent him in court in exchange for his surrender, as he had been angered by his wife and younger brother allegedly being tortured by police.
"Chu-lan told the truth," Hsieh said on the sidelines of a campaign event for Democratic Progressive Party (DPP) Kaohsiung mayoral candidate Chen Chi-mai (陳其邁).
Asked whether Hou had entered Alexander's home in Taipei and negotiated with Chen, Hsieh said Hou did not.
"An extensive area had been cordoned off by the police," Hsieh said. "Hou was in a command post ... with some prosecutors, where he tried to talk to Chen on the phone."
"I retrieved a gun and a hostage... I had brought [then-]Control Yuan member Yeh Yao-peng [葉耀鵬] in with me," Hsieh said. "I handed the child to a police officer, who handed him to Hou. He showed up [in front of the media] with the child. Suddenly, all flashlights were on him."
Hsieh said he would release an audio recording of the negotiation to prove that Hou was not part of it.
Responding to Yeh's accusations, Hou on Wednesday said: "There were hundreds of reporters on the scene."
Asked to comment on the matter yesterday, Hou urged people to review the footage taken that night.
Hsieh should be lauded for highlighting his contribution, but he did not need to draw attention to his legacy on the eve of the election, Hou's campaign office later said.
In response to media queries for comments on Hsieh's revelation, DPP New Taipei City mayoral candidate Su Tseng-chang (蘇貞昌) said now that Hsieh has told the truth, "residents should take a few moments to think about what kind of person would better serve New Taipei City."
Additional reporting by Sean Lin and Chen Hsin-yu
Comments will be moderated. Keep comments relevant to the article. Remarks containing abusive and obscene language, personal attacks of any kind or promotion will be removed and the user banned. Final decision will be at the discretion of the Taipei Times.