ELECTIONS: KMT, bureau clash over China spreading fake news in nation
Chinese Nationalist Party (KMT) Legislator Lai Shyh-bao (賴士葆) yesterday clashed with National Security Bureau Deputy Director-General Chen Wen-fan (陳文凡) over whether China is spreading fake news in Taiwan.
The exchange occurred during Chen's report to the Legislative Yuan's Finance Committee, which had asked the National Security Bureau to brief lawmakers on its use of budgetary items listed as "monitoring communications" and "telecom operations."
At his turn to question Chen, Lai said: "Is it true that China is somehow influencing Taiwanese public debate?"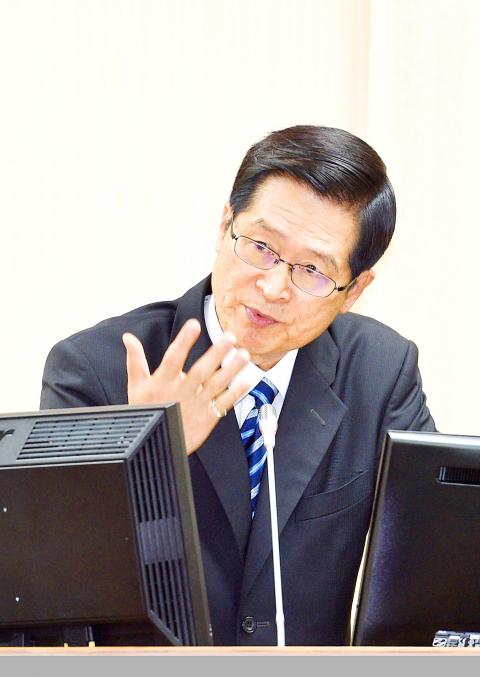 Minister of National Defense Yen De-fa speaks before the Legislative Yuan's Foreign Affairs and National Defense Committee in Taipei yesterday.
Photo: Peter Lo, Taipei Times
When Chen said: "Beyond a doubt," Lai said: "You are calling Taiwanese idiots by saying this. Is there any evidence?"
Chen said a Nov. 8 story claiming that the US had annexed Itu Aba (Taiping Island, 太平島) at President Tsai Ing-wen's (蔡英文) invitation and that Beijing had declared war was believed to have been manufactured by China.
Lai then asked Chen whether the bureau keeps tabs on people who criticize Tsai, which Chen denied.
Allowing the government to decide what is fake news endangers free speech, Lai said, adding that the National Communications Commission uses its licensing authority to harass the media.
He then said: "What is the standard for calling something fake news? Who decides?"
"That which is untrue is false," Chen said. "The appropriate authorities make such determinations according to the only standard there is: reality."
Later, KMT Legislator William Tseng (曾銘宗) asked whether the National Security Bureau monitors Facebook, which Chen denied.
"The bureau is focused on China and other foreign hostile forces, and the scope of operations is limited to reviewing publicly available information on public media," Chen said. "We make no judgement and conduct no surveillance on Facebook."
Comments will be moderated. Keep comments relevant to the article. Remarks containing abusive and obscene language, personal attacks of any kind or promotion will be removed and the user banned. Final decision will be at the discretion of the Taipei Times.