Officials call for English test in university exams
COMPETITIVE: If the proposal is accepted, the Ministry of Education said it would need five years and NT$3 billion to establish test centers at schools nationwide
Education officials last month proposed making oral English tests part of college entrance exams and establishing English-language TV channels to boost the public's English skills as the Ministry of Education worked on plans to realize Premier William Lai's (賴清德) goal of making English an official language
The officials made the proposals at a ministry conference about English proficiency in Taipei, where College Entrance Exam Center Director Liu Meng-chi (劉孟奇) said that oral English proficiency tests should be included in public university entrance exams.
"China is poised to implement such tests in the next two or three years and Hong Kong has done so many years ago," he said. "To maintain its international competitiveness, Taiwan must not fall behind in English proficiency."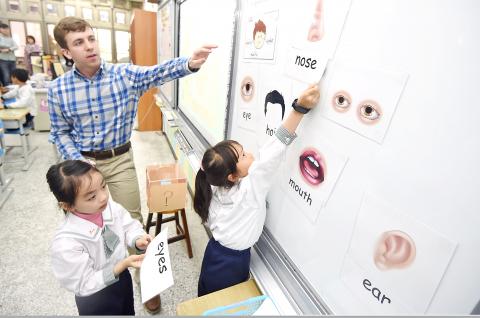 Students pair English words with images during a language class at Wenchang Elementary School in Taipei on March 16.
Photo: Chien Jung-fong, Taipei Times
The Test of English as a Foreign Language and other privately administered English tests use voice recordings of the test taker for grading, which is a method the center could adopt, Liu said.
If such tests were conducted concurrently with English listening comprehension tests or the General Scholastic Ability Test, applicants would not have to spend days taking exams, he added.
If the proposal is accepted, the center would need five years and NT$3 billion (US$97.28 million) to establish standardized test venues at 300 to 500 schools, Liu said.
The ministry does not have a definite plan on the form of the oral test or grading methods, Department of Higher Education Director-General Chu Hung-chang (朱俊彰) said, adding that the center and the Joint Board of College Recruitment Commission would convene to discuss the matter.
The ministry said it would launch courses taught exclusively in English at colleges and universities.
Mandatory English courses would be organized by proficiency level at more than 80 percent of colleges and universities, while 85 percent of the institutions would leverage dual-degree programs, it said, adding that an all-English learning environment would be created with the help of foreign academies and international degree programs.
Workplace English classes should be taught at vocational and technical schools, which are responsive to specific professional needs, the ministry said.
English courses offered at technical or vocational colleges should be adaptable to individual needs, provide adequate remedial classes and evaluate performance by metrics that reflect what the students would need in their line of employment, it added.
It would work with other government agencies to promote English proficiency, the ministry said.
Possible projects include establishing a national English-language radio or TV station jointly with the Ministry of Culture to broadcast shows with English subtitles, the education ministry said.
The officials also proposed working with the Executive Yuan to encourage local governments to recruit volunteers to provide bilingual services, such as teaching English to elderly people or helping people read English-language books in libraries.
Comments will be moderated. Keep comments relevant to the article. Remarks containing abusive and obscene language, personal attacks of any kind or promotion will be removed and the user banned. Final decision will be at the discretion of the Taipei Times.