TSMC founder receives Order of Propitious Clouds
President Tsai Ing-wen (蔡英文) yesterday awarded Taiwan Semiconductor Manufacturing Co (TSMC) founder Morris Chang (張忠謀) the Order of Propitious Clouds, First Class.
At the ceremony, Tsai said the medal was for the tech guru's contribution to Taiwan's IC industry, as well as the development of the local high-tech sector.
The Order of Propitious Clouds is awarded to civil servants who have made great contributions to the nation and to civilians and foreigners for outstanding civic merit.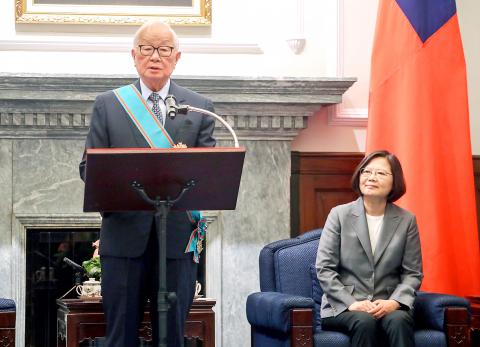 Taiwan Semiconductor Manufacturing Co founder Morris Chang, left, accepts the Order of Propitious Clouds, First Class from President Tsai Ing-wen at the Presidential Office Building in Taipei yesterday.
Photo: CNA
Chang is the first person from the business sector to receive the Order of Propitious Clouds, First Class.
Tsai said she greatly respected Chang and considered him a good friend, adding that she often asks him for advice on how to promote national policies and has learned a lot from the TSMC founder.
Chang brought advanced IC know-how to Taiwan from the US, where he received a master's degree from the Massachusetts Institute of Technology and a doctorate from Stanford University, helping Taiwan build a comprehensive IC industry incorporating upstream and downstream sectors, she said.
In 1985, the government recruited Chang to run the Industrial Technology Research Institute, a decision that perhaps altered the course of science and technology in Taiwan forever, Tsai said.
As head of the institute, Chang was in charge of promoting industrial and technological development in Taiwan. He combined his experience working in the semiconductor industry with a rising trend of outsourcing to found TSMC.
Since its establishment in 1987, TSMC has become the world's leading semiconductor foundry, commanding a global market share of more than 50 percent.
TSMC has continued to developed critical IC technology in Taiwan, Tsai said, a reference to the company's plan to build a sophisticated 3-nanometer process wafer fab in Tainan, which is expected to serve as a hub to supply chips for cloud-computing and artificial intelligence applications, as well as 5G devices.
Addressing the ceremony, Chang, who in June retired as chairman of TSMC after serving with the company for more than 30 years, said the world's largest contract chipmaker is a very successful company, but it also faces stiff competition from firms in several countries such as the US, China and Japan, which have been motivated by rising nationalism.
Amid escalating statism, TSMC needs fair competition in order to grow, he said.
In addition to international competition, the local IC industry also faces a shortage of resources, including land, water, electricity and talent, Chang said, urging the government to give the tech sector the support it needs to prosper.
Chang said he has faith in TSMC's new leadership and expects the company to expand and make more contributions to the nation.
In June, Mark Liu (劉德音) succeeded Chang as chairman of the company's board and C.C. Wei (魏哲家) has served as TSMC's vice chairman and CEO, establishing a dual leadership system.
Comments will be moderated. Keep comments relevant to the article. Remarks containing abusive and obscene language, personal attacks of any kind or promotion will be removed and the user banned. Final decision will be at the discretion of the Taipei Times.