MOFA tries to cool furor over statue incident
A STRETCH OR KICK? A ministry spokesman said Taiwan respects everyone's right to express their opinions, but they should do so 'in a peaceful and rational manner'
The actions of a Japanese man who allegedly kicked a statue in Tainan honoring "comfort women" only reflected his own uncivilized behavior and hopefully would not affect Taiwan-Japan relations, the Ministry of Foreign Affairs (MOFA) said yesterday.
"The ministry denounces any provocative, violent and uncivilized behavior, whether it is conducted by a Taiwanese or a foreigner… Such actions are not conducive to resolving the comfort women issue," spokesman Andrew Lee (李憲章) told a news conference in Taipei.
As far as he knew, Mitsuhiko Fujii, who was seen in video footage released by Chinese Nationalist Party (KMT) Tainan City Councilor Hsieh Lung-chieh (謝龍介) on Sunday with his raised left leg touching the statue, has already left Taiwan, Lee said.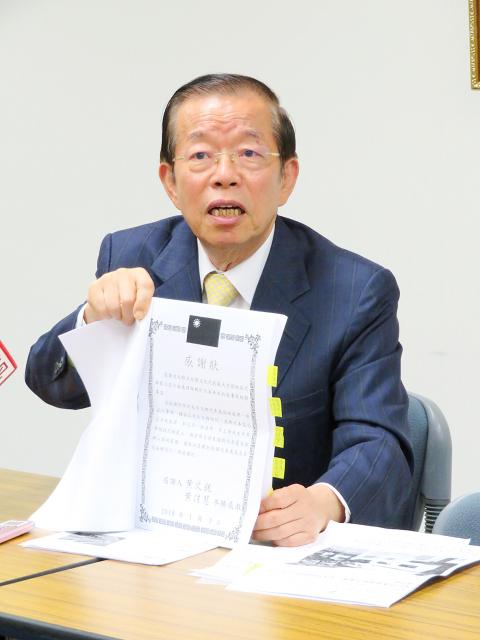 Representative to Japan Frank Hsieh yesterday speaks at a news conference in Tokyo.
Photo: CNA
Fujii reportedly visited Taiwan as a representative of 16 Japanese right-wing groups.
His action sparked a protest on Monday led by KMT Tainan City Councilor Hsieh Lung-chieh (謝龍介) outside the Japan-Taiwan Exchange Association in Taipei.
Some pro-unification protesters tossed paint at the main entrance of the building and clashed with police officers and the building's security guards.
"Taiwan is a democratic nation governed by the rule of law. While we respect each individual and group's freedom and right to express their opinions, they should be conveyed in a peaceful and rational manner," Lee said.
Taiwan-Japan relations cover a wide range of issues, and the ministry hopes the incident would be handled properly and that any difference of opinions between the two nations would not impede the development of bilateral ties, he said.
Fujii, a member of the Tokyo-based Alliance for Truth About Comfort Women, denied kicking the statue in a statement posted on Monday on the group's Facebook page.
Saying that he had raised his leg several times to stretch it, Fijii accused the KMT of altering the image it released.
"It is my reasonable doubt that the KMT had, in order to attack the Democratic Progressive Party and to turn the situation into a diplomatic incident, maliciously falsified my image for its own electoral purposes," he wrote.
Representative to Japan Frank Hsieh (謝長廷) yesterday told a news conference in Tokyo that Fujii does not represent all Japanese nor the Japanese government, so people should refrain from blowing the incident out of proportion.
"I have always called for peace and reconciliation, and opposed any violent conduct. If such an action really did occur, I would denounce it," Hsieh said, adding that Fujii's behavior had been criticized by many Japanese.
The Taiwan Women's Rescue Foundation yesterday urged those promoting the rights of former comfort women to avoid engaging in any harmful behavior under the pretext of "justice" that could end up damaging the women's dignity.
"If we are denouncing wartime sexual violence, there is all the more reason to do so in a non-violent manner, rather than clinging to a patriarchal mindset of answering violence with violence," the foundation said in a statement.
Additional reporting by staff writer and CNA
Comments will be moderated. Keep comments relevant to the article. Remarks containing abusive and obscene language, personal attacks of any kind or promotion will be removed and the user banned. Final decision will be at the discretion of the Taipei Times.