KMT accuses DPP mayor of vote-buying
The Chinese Nationalist Party (KMT) yesterday said that Taichung Mayor Lin Chia-lung (林佳龍) contravened election laws by treating residents to a banquet and demanded that prosecutors investigate.
The Democratic Progressive Party (DPP) mayor said that the KMT got its facts wrong, as the banquet was organized by local supporter groups and not by his office.
The banquet took place on July 21 on Lishan (梨山) in the Central Mountain Range, said KMT Culture and Communications Committee deputy director Wang Hung-wei (王鴻薇) and Wu Huang-sheng (吳皇昇), spokesman for KMT Taichung mayoral candidate Lu Shiow-yen's (盧秀燕) campaign office.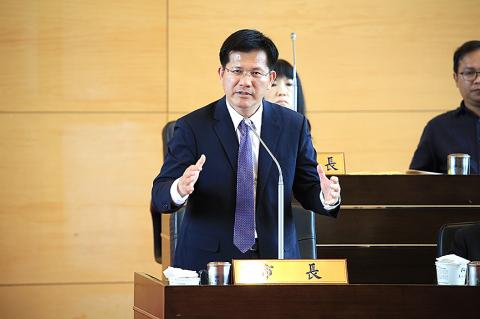 Taichung Mayor Lin Chia-lung yesterday in Taichung responds to accusations that he engaged in vote-buying by offering a free banquest for voters.
Photo: Chang Ching-ya, Taipei Times
Video showed about 300 guests at the event, a "lavish" banquet with meat, seafood and other dishes that was held to solicit votes for Lin, Wu said.
"It was a free banquet. There were election banners and attendants wearing hats and vests urging people to vote for Lin," Wu said.
Lin addressed the audience and brought many top city officials to canvass for votes, Wang said, accusing Lin of misappropriating taxpayer money and government resources for personal gain.
"The event was definitely held to buy votes. It contravened provisions of the Civil Servants Election and Recall Act (公職人員選舉罷免法), which caps the value of a gift candidates can give to voters at NT$30," Wang said.
Lin rejected the accusations, saying that people would see KMT officials as a joke if they keep attacking their opponents with false information.
"The banquet was organized by private organizations and groups that are backing me for re-election. Such groups have always sponsored events to express their support for certain candidates," Lin said. "The event's funding came from these groups and other private sources."
The KMT has a tradition of putting on lavish banquets and using public funds to distribute campaign gifts, Taichung City Government spokesman Cho Kuan-ting (卓冠廷) said.
"Just because the KMT is so firmly fixed in their ways does not mean they should accuse others of doing such things," Cho said. "Lu Shiow-yen as the KMT candidate should not resort to mudslinging. It is not what Taichung voters want to see."
The banquet was a private function organized by supporter groups, which invited Lin and some city officials as guests, Cho said, adding that most attendees were members of these groups and the event was not open to everyone.
Comments will be moderated. Keep comments relevant to the article. Remarks containing abusive and obscene language, personal attacks of any kind or promotion will be removed and the user banned. Final decision will be at the discretion of the Taipei Times.