Candidates back out after KMT talks
CLOSED DOOR: Candidates for Tainan mayor and Hsinchu County commissioner said they did not make any quid pro quo deals with the KMT for backing out of the races
Chinese Nationalist Party (KMT) Legislator Lin Wei-chou (林為洲) and party member Chen Tzu-ching (陳子敬), who were campaigning without party backing, dropped out of their respective races yesterday after meetings with KMT leadership.
A tearful Lin renounced his bid for Hsinchu County commissioner at an early morning news conference at the Legislative Yuan in Taipei, while Chen announced he would no longer run for Tainan mayor after meeting with KMT Chairman Wu Den-yih (吳敦義) in Tainan.
Lin said he wants to reform the party from within and hopes he would be the last victim of the party's arbitrarily altered nomination process.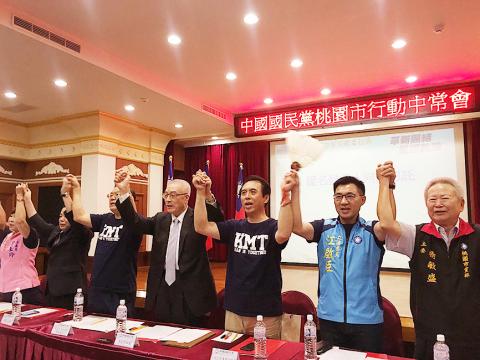 Chinese Nationalist Party (KMT) Chairman Wu Den-yih, third left, and others yesterday cheer KMT Legislator and Taoyuan mayoral candidate Apollo Chen, third right, at a meeting of the party's Central Standing Committee in Taoyuan.
Photo: Hsieh Wu-hsiung, Taipei Times
Also present at the news conference were KMT whip Johnny Chiang (江啟臣), caucus deputy secretary-general William Tseng (曾銘宗) and other party lawmakers who are reportedly Lin's friends.
The high-profile race for Hsinchu County commissioner is a bellwether of the KMT's ability to run unified campaigns across the nation in November, Chiang said.
Former president Ma Ying-jeou (馬英九), former KMT chairwoman Hung Hsiu-chu (洪秀柱) and New Taipei City Mayor Eric Chu (朱立倫) persuaded Lin to bow out, he said, adding that Lin's decision showed character and vision.
"We have brought back [Lin] Wei-chou; he is home now," he added.
The past few months have been the most trying in his 20 years in politics, Lin said.
"I have decided that my place is to fight alongside the party caucus and to check the ruling party," he said. "I remain convinced that the changes to the KMT's nomination system were not for the better, which is why I had insisted on running."
Lin said he would continue to represent and serve the people of Hsinchu County, and that he is to seek nomination as a legislative candidate in the party primaries next year.
Democratic Progressive Party Hsinchu County commissioner candidate Cheng Chao-fang (鄭朝方) wished Lin well, but said that the public would not be fooled by Wu's promise that Lin would obtain the party's nomination to run a re-election campaign in 2020.
"Lin has many good ideas about how to run the county and I will certainly pay him a visit for his insights and opinions," he said.
Chen, after emerging from an afternoon closed-door meeting with Wu, announced that he no longer wishes to run in the Tainan election.
"All campaign activities are suspended as of today," Chen said, before denying making any exchange with the party for dropping out.
Running for office without party backing proved difficult and Wu showed sincerity by coming to Tainan to talk with him in person, Chen said.
"A sensible soldier knows when to retreat," he said, adding that the campaign had made the decision after much internal debate.
He did not accept any offers for bowing out of the race, nor does he have any regrets or begrudge the party, he said, thanking the efforts of his campaign staff over the past year.
Chen also said that he has not thought about stumping for other KMT candidates and would make a decision after he has a few days' rest.
Additional reporting by Wan Yu-chen and Tsai Meng-shang
Comments will be moderated. Keep comments relevant to the article. Remarks containing abusive and obscene language, personal attacks of any kind or promotion will be removed and the user banned. Final decision will be at the discretion of the Taipei Times.