Philippine envoy upbeat on Southbound Policy pipeline, discloses talks on visas
The Cabinet's New Southbound Policy is bearing fruit in the Philippines, as Taipei and Manila are cooperating more closely on agriculture, trade and investment, and education and healthcare, Manila Economic and Cultural Office (MECO) Chairman and Resident Representative Angelito Banayo said.
Banayo praised the government's policy of enhancing exchanges with ASEAN members, saying that it is especially welcome as it comes at a time when regional partners need closer collaboration.
"It comes at the time when there are so many things happening in the world economy, because of what the US and China are doing, the beginning of what looks like a trade war," said Banayo, whose office represents Philippine interests in Taiwan in the absence of official diplomatic ties.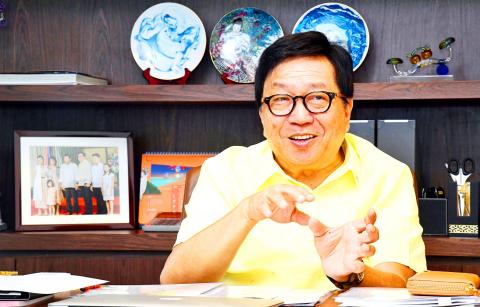 Manila Economic and Cultural Office Chairman and Resident Representative Angelito Banayo gestures during an interview at his office in Taipei on Wednesday
Photo: CNA
It is important for nations in the Asia-Pacific region to bond together to cooperate and coordinate their efforts so that they will not be negatively affected by the looming trade war between the two world powers, Banayo said.
He also said it is time for Taiwan to look south, as for a long time, it focused on the US, the EU and East Asia.
"With this, it brings a lot of opportunities for smaller countries like the Philippines to partner with Taiwan," he told reporters on Wednesday.
Banayo said that Taipei and Manila are working more closely together in various areas of mutual interest since the launch of the policy in May 2016.
For instance, Taiwan and the Philippines signed a new bilateral investment agreement in December last year, making it the first updated investment agreement that Taiwan has signed with a country targeted by the New Southbound Policy.
The framework is now being used for further investment engagement in the Philippines, he added.
For instance, next month, the Philippines is to launch Taiwanese agricultural machinery exports to Davao City on Mindanao Island, Banayo said.
Many Taiwanese businesspeople regularly visit the Philippines to scout potential locations for Taiwanese businesses, he said.
Manila is especially interested in learning from Taiwan's experience in fostering small and medium-sized enterprises, due to its leadership in the field, he added.
In terms of promoting closer agricultural cooperation, Taiwan and the Philippines are within the next three months to launch a demonstration farm where Taiwanese technology is to be used under a partnership or joint venture agreement with a Philippine cooperative to produce high-value crops, Banayo said.
Both sides are still looking for possible sites for the farm, with the crops, fruits and vegetables from the project to be exported to Taiwan or sold domestically in the large Philippine market, he said.
In the field of cultural and educational exchanges, Banayo said that Philippine scientific high schools would soon start offering Mandarin classes taught by Taiwanese teachers.
"I think that is very important, because eventually I want these high-school students to study for their bachelor degrees in science or engineering technology here in Taiwan," he said.
A MECO board of directors meeting last week discussed the possibility of extending the validity of visas given to Taiwanese passport holders or giving officials and diplomats from Taiwan visa-free privileges, Banayo said.
The board also discussed studying how much MECO could reduce visa fees for Taiwanese applicants, he said.
MECO officials from Manila visited Taiwan last week for talks with National Immigration Agency and Ministry of Foreign Affairs officials, Banayo said, adding that they would make a public announcement once a decision is reached.
Comments will be moderated. Keep comments relevant to the article. Remarks containing abusive and obscene language, personal attacks of any kind or promotion will be removed and the user banned. Final decision will be at the discretion of the Taipei Times.