CUPP member asks Jay Chou to 'educate' his wife
China Unification Promotion Party (CUPP) member Chen Chih-chiang (陳志強) yesterday said that Taiwanese-Australian model and actress Hannah Quinlivan (昆凌) supported Taiwanese independence, after uncovering an interview she did five years ago.
In a post on Sina Weibo, Chen shared a photograph of Quinlivan during the 2013 interview, in which she said she represented two nationalities — Taiwan and Australia.
She was visiting her family in Australia at the time.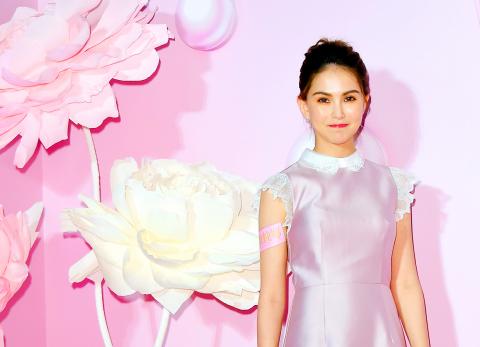 Taiwanese-Australian model and actress Hannah Quinlivan poses on June 13.
Photo: Hu Shun-hsiang, Taipei Times
In his post, Chen called on Quinlivan's husband, Taiwanese singer Jay Chou (周杰倫), to "educate" her.
In a separate post yesterday, Chen tagged a Sina Weibo account shared by two Chinese Ministry of Public Security offices, asking whether Quinlivan's comments are against the law.
"If [the comments] have violated the law, I choose to forgive her ignorance," Chen wrote.
In response to requests for comment, Quinlivan's agent said that she does not understand the question and is not interested in politics.
Quinlivan is only focused on the work she enjoys and on her family, her agent added.
The news comes after Taiwanese actress Vivian Sung (宋芸樺) on Thursday posted an apology on Sina Weibo after a video surfaced of her calling Taiwan her favorite country in a 2015 interview.
"I am a Chinese girl born in the 1990s. Taiwan is my hometown, China is my home country," Sung wrote.
Sung's apology received a backlash from Taiwanese and appears to have failed to please Chinese.
Comments will be moderated. Keep comments relevant to the article. Remarks containing abusive and obscene language, personal attacks of any kind or promotion will be removed and the user banned. Final decision will be at the discretion of the Taipei Times.