Legislators fail to agree on 22 drafts to Company Act
Lawmakers yesterday agreed to advance a slew of proposed adjustments to the Company Act (公司法) to a second reading, but failed to reach a consensus on 22 disputed draft amendments.
One of the disputed draft bills proposes that if the information provided for the establishment or registration of a company is found to be falsified, the Ministry of Economic Affairs could revoke the registration.
It initially included the proviso: "Exemptions apply where revocation of registration could severely hurt the rights of a company's shareholders or creditors."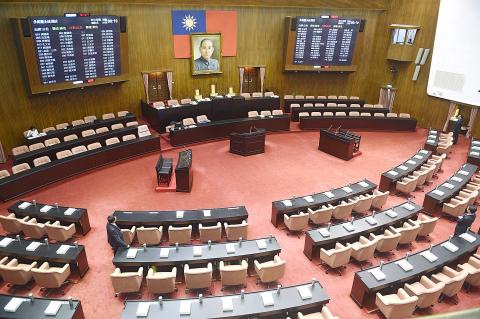 Staff test microphones, speakers and other equipment in the legislative chamber at the Legislative Yuan in Taipei yesterday before legislators were due to vote on a draft amendment to the Company Act.
Photo: George Tsorng, Taipei Times
Despite the proviso being removed following a round of cross-caucus negotiations on Wednesday, legislators yesterday resolved to set it aside to allow time for caucuses to propose their versions of the draft amendment, which would be voted on during a plenary session on Friday next week.
Another contentious draft amendment, which says that a shareholder who controls at least half of the shares issued by a company should be allowed to call extempore shareholder meetings, would also be put to a vote.
One proposed amendment, which suggests giving directors the right to retrieve company documents, such as the employee lists or account ledgers, is to be deliberated next week after Chinese Nationalist Party (KMT) Legislator Chen Chao-ming (陳超明) objected to it.
Granting such great authority to directors could "cause a company's downfall," Chen said.
The draft amendment has sparked concern over perceived lax conditions for calling extempore shareholder meetings, which some have said could see an increase in extempore meetings held because of struggles for company control.
However, a proposal that said proxy statements should not count in the election or ouster of directors or supervisors was dropped.
An amendment proposed by the Executive Yuan, which said proxy statements are to indicate the scope of authorization and are to be presented at annual shareholder meetings, passed the second reading.
The rule would not apply to listed or over-the-counter companies, which are subject to rules set out by the Securities and Futures Bureau, the draft amendment said.
A proposal by KMT Legislator Chiang Wan-an (蔣萬安), which said that employees or union members of companies facing bankruptcy should be allowed an opportunity to file for corporate reorganization, was given the green light by the four caucuses and passed the second reading.
The proposal was made in light of TransAsia Airways' sudden announcement that it was dissolving in November 2016, leaving its employees displaced, Chiang said.
Comments will be moderated. Keep comments relevant to the article. Remarks containing abusive and obscene language, personal attacks of any kind or promotion will be removed and the user banned. Final decision will be at the discretion of the Taipei Times.