Online platform helping to grow public trust: minister
The Executive Yuan's decision to open more government policies for public debate on its online public policy platform before April 30 is helping build public trust in the government, Minister Without Portfolio Audrey Tang (唐鳳) said yesterday.
Tang made the comment at a news conference for the first anniversary of the start of biweekly collaborative meetings on transparency in the government.
The meetings, which are attended by representatives of government agencies to share their agendas and policies with the public, deal with issues that require interdepartmental cooperation, and have been marked by clashes of interests, divisive opinions and significant debate by the public, a source said.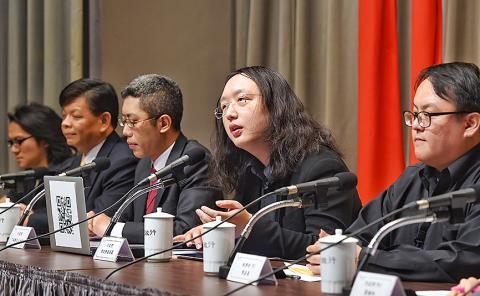 Minister Without Portfolio Audrey Tang, second right, speaks at a news conference in Taipei yesterday.
Photo: Fang Pin-chao, Taipei Times
The government has held more than 30 meetings, which were fully recorded, on various issues, Tang said, adding that it has attempted to include as many individuals pertinent to the discussions as possible.
Topics of discussion have been selected from issues on the online platform that have received the support of at least 5,000 people, the source said, adding that participating officials, or their agencies, are also free to submit topics for debate.
The source said the meetings serve as a communication tool and collaboration platform between the proposer and the government, implementing the core ideals of the government's policy on transparency: participation, inclusion and accountability.
The meetings, and the advisers assigned to each issue, help the proposer familiarize themselves with how policy is designed, the source added.
While only the Cabinet's projects and policies are currently made public on the platform, more than 1,000 projects from different branches and departments are this month to be added for discussion, Tang said.
Comments will be moderated. Keep comments relevant to the article. Remarks containing abusive and obscene language, personal attacks of any kind or promotion will be removed and the user banned. Final decision will be at the discretion of the Taipei Times.