Chen Chi-mai wins Kaohsiung primary
INFIGHTING: Kuan Bi-ling said that she was the target of criticism caused by conflicts between factions in the party, but highlighted the remarkable support she received
Democratic Progressive Party (DPP) Legislator Chen Chi-mai (陳其邁) yesterday emerged victorious in the party's Kaohsiung mayoral election primary opinion polls, beating his rivals by a wide margin.
According to the results of telephone polls released by DPP headquarters, Chen held a double-digit lead over his rivals, DPP legislators Chao Tien-lin (趙天麟), Lin Tai-hua (林岱樺) and Kuan Bi-ling (管碧玲).
Chen, a member of DPP Chairperson and President Tsai Ing-wen's (蔡英文) faction, garnered approval ratings surpassing 35 percent in all three opinion polls — one by DPP headquarters and two conducted by survey companies — for an average rating of 35.9 percent.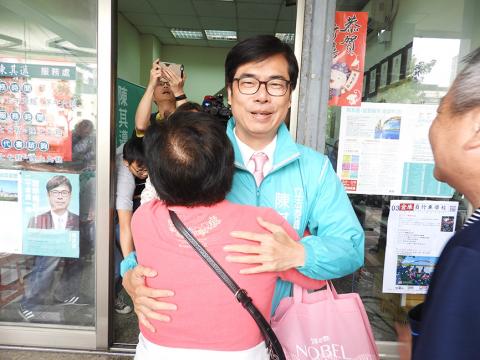 Democratic Progressive Party Legislator Chen Chi-mai yesterday hugs a supporter in Kaohsiung after winning the party's primary for the Kaohsiung mayoral election.
Photo: Ke Yu-hao, Taipei Times
Chao, the runner-up, had an average approval rating of 14.4 percent, followed by Lin's 11.2 percent.
Kuan was last with an average approval rating of just 5.3 percent.
Chao and Kuan are members of former premier Frank Hsieh's (謝長廷) faction, while Lin is not affiliated with any faction.
Upon learning of the results, Chen said that he called Kaohsiung Mayor Chen Chu (陳菊), who is visiting Japan, to thank her for the help she had offered him during his political career.
He said that he hopes to secure a meeting with Chen Chu after her return to seek her advice on governing Kaohsiung.
Chen Chi-mai also called each of his rivals — including DPP Legislator Liu Shih-fang (劉世芳), who opted out of the primary in January — to send his regards and express the hope that they would continue to work together toward their shared goal of making Kaohsiung better.
He said that, if elected, he hopes to turn the city into the nation's focal point for artificial intelligence and to transform it from a "livable city" to a "'smart' city."
Chen Chi-mai said that he hopes to attract foreign technology companies to set up branch offices in Kaohsiung and form an industrial supply chain with local semiconductor manufacturers, which would help create job opportunities for the city's young talent.
Chao said that he congratulated Chen Chi-mai and expressed his willingness to offer any help needed during the election campaign.
Lin said that she would give Chen Chi-mai her unstinting support in the run-up to the Kaohsiung mayoral election on Nov. 26.
"The end of the primary is not the finish line, but only a short break in the DPP's unified campaign to win the year-end local elections," she said.
Meanwhile, Kuan lamented infighting between DPP factions in the primary and highlighted the significant effort she put into her campaign.
Kuan said she had to witness a battle between factions and even became a target of the ensuing criticism.
She said she fought a lonesome campaign, but managed to attract a crowd of about 30,000 supporters on the eve of the primary, which she said was remarkable.
Additional reporting by Ko Yo-hao
Comments will be moderated. Keep comments relevant to the article. Remarks containing abusive and obscene language, personal attacks of any kind or promotion will be removed and the user banned. Final decision will be at the discretion of the Taipei Times.