Ex-Tainan county commissioner to run for Taipei job
Former Tainan county commissioner Su Huan-chih (蘇煥智) yesterday said he would leave the Democratic Progressive Party (DPP) and run in the Nov. 24 Taipei mayoral election.
"I hereby officially announce that I will run for Taipei mayor," Su said at a news conference in Taipei. "Taiwan cannot wait any more and the people cannot wait any longer."
"I solemnly announce that I am leaving the DPP, of which I have been a member for 27 years," he said. "I am leaving the DPP, but will not leave Taiwan's democratic movement, but rather push forward and deepen Taiwan's democracy."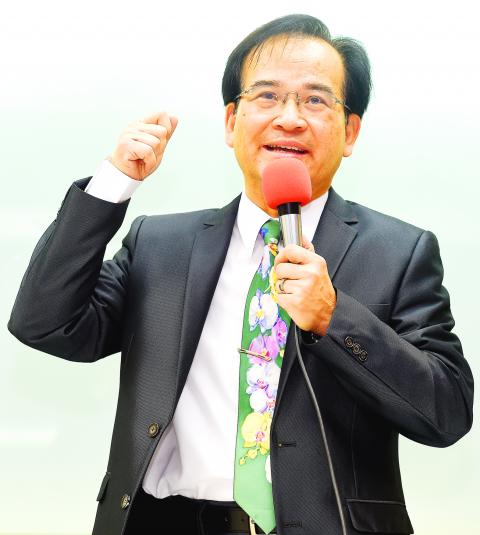 Former Tainan County commissioner Su Huan-chih yesterday announces that he is leaving the Democratic Progressive Party and launching an independent bid for the Taipei mayorship at a news conference in Taipei.
Photo: Chu Pei-hsiung, Taipei Times
Taipei is Taiwan's window to the world, a place where unlimited creativity, talented people and abundant resources come together, Su said, adding that it is also the engine of the nation's development, but it needs thorough change.
"If the problem of low birth rates can be solved in Taipei, it can be solved elsewhere," Su said. "I want to join the election to speed up solutions for our low birth rate."
Taiwan's economy would thrive if the city's economy, technology, culture and arts prosper, he said.
President Tsai Ing-wen (蔡英文) has been in office for one year and nine months, but the DPP government has failed to come up with effective solutions for the nation's economic difficulties, low birth rate, aging society and poverty, Su said.
"A good leader should think about how to use the people's strength … and the government should try to remove the obstacles that stop people from exercising their strengths," he said, adding that he would visit every corner of Taipei, listen to people and "together find the city's vitality and dreams."
He criticized former president Ma Ying-jeou (馬英九) for focusing on the six special municipalities, which Su said has lead to 70 percent of the population living in these areas, as well as financial inequality between the municipalities and other areas.
China and Germany have tax-sharing systems that give local governments more power and financial resources, Su said, adding that if he were to be elected, he would shift power and resources to Taipei's districts, boroughs and communities to encourage local autonomy "so that everyone can contribute to the city."
Taipei Mayor Ko Wen-je (柯文哲) said that Su's announcement came as no surprise.
However, "it is strange that he wants to leave his party," Ko said.
DPP Legislator Pasuya Yao (姚文智), who is seeking the DPP's nomination for Taipei mayoral candidate, said he hoped that Su would reconsider his decision to withdraw from the party.
Comments will be moderated. Keep comments relevant to the article. Remarks containing abusive and obscene language, personal attacks of any kind or promotion will be removed and the user banned. Final decision will be at the discretion of the Taipei Times.