Motorists hit the road as sunny weather persists
Several sections on the nation's freeways were packed yesterday — the second day of the Lunar New Year — as more people hit the road for sightseeing and married daughters returned to their parents' home in line with the hui niang jia (回娘家) tradition.
As the sunny weather encouraged people to venture outdoors, there was heavy traffic at popular tourist spots and scenic areas, such as near the north coast, Hehuanshan (合歡山) in Nantou County and Kenting (墾丁) in Pingtung County, the Directorate-General of Highways said.
The Sun Yat-sen Freeway (Freeway No. 1) was packed, with traffic jams on the southbound lane in the morning giving way to congestion on the northbound lane in the early afternoon.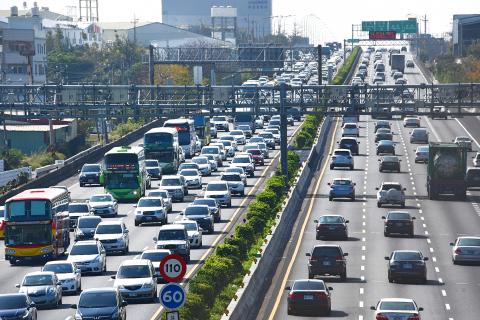 Heavy traffic congests the northbound lane of the Sun Yat-sen Freeway (Freeway No. 1) near Taichung yesterday afternoon.
Photo: Lee Chung-hsien, Taipei Times
There was also congestion on the northbound lane of the Chiang Wei-shui Memorial Freeway (Freeway No. 5) in the afternoon, which the Taiwan Area National Freeway Bureau said could be due to people hoping to return to northern Taiwan before Tuesday, the last day of the six-day Lunar New Year holiday.
The bureau urged motorists to check traffic updates on its Web site at 1968.freeway.gov.tw before beginning their journey.
Comments will be moderated. Keep comments relevant to the article. Remarks containing abusive and obscene language, personal attacks of any kind or promotion will be removed and the user banned. Final decision will be at the discretion of the Taipei Times.