PROFILE: Serving on the streets: Taipei City's deputy police chief
In his 30-plus years of service, Jason Yu (于增祥), the deputy chief of Taipei City Police Department's Zhongzheng First Precinct, has responded to nearly 1,000 protests.
Yu responded when violence erupted between the drivers of two taxi companies in 1995; when protests began after Taiwan's first change of power in 2000; during the protests following the "319 shooting incident," an attempted assassination of then-president Chen Shui-bian (陳水扁) in 2004; during the "red shirts" anti-corruption movement against Chen in 2006; and when rallies were held to protest the visit of Chen Yunlin (陳雲林), then-chairman of China's Association for Relations Across the Taiwan Straits, in 2008.
More recently, Yu has continued to respond to protests, including the Sunflower movement.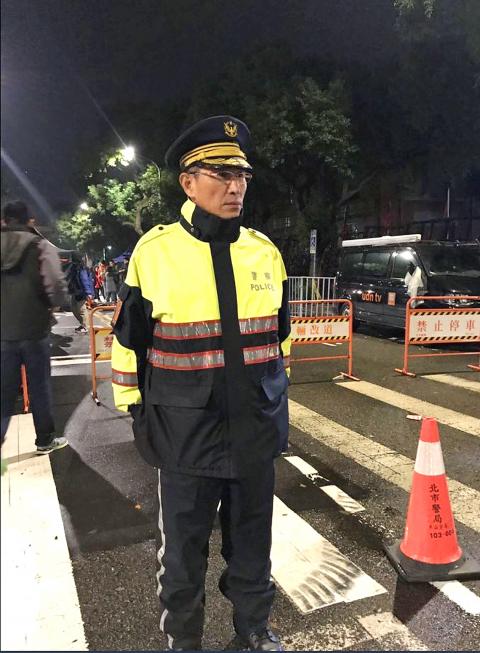 Taipei Police Department Zhongzheng First Precinct Deputy Chief Jason Yu is on duty at a protest in Taipei on Jan. 13.
Photo: Wang Kuan-jen, Taipei Times
In addition to facing high levels of pressure, Yu said he often eats irregularly, and his difficult work has translated into health problems.
In 2008, doctors discovered that one of his kidneys had shrunk and stopped functioning, and a few years later, when Yu underwent a health examination, doctors found a lung tumor.
Yu said he scheduled a follow-up appointment, but then, on the night of March 18, 2014, the Sunflower movement began.
He only visited the doctor after it came to an end more than a month later, he said, adding that fortunately the lung tumor had not become worse.
Looking back at his years of service, Yu said what stood out for him was the series of protests against Chen Yunlin's visit.
During a rally, Yu's chest and abdomen were struck by two fist-sized rocks in front of Taipei's Jingfu Gate (景福門), he said, adding that the scene of him bleeding was broadcast on television.
He received more than 200 unanswered calls from his wife and when he returned the calls, he heard the sound of his wife sobbing, he said, adding that it was the first time that he cried.
Yu said that when he was young, his dream was to become a news officer for the military, but after his father passed away, he transferred to a police academy.
He started as an entry-level police officer and after eight years of hard work and experience in the field, he was promoted to a commanding officer, he said.
He understands that police officers want to be respected, Yu said, adding that he leads by winning the hearts and minds of others.
Over the past 20-plus years, Yu relied on his wife's income so that he could donate his salary to buy equipment and give bonuses to his subordinate officers, he said.
He has donated over NT$10 million (US$343,630), Yu said.
Only last year, when the health of his wife deteriorated, did he begin spending his salary, he added.
Yu said he would continue to serve on the streets during protests.
Comments will be moderated. Keep comments relevant to the article. Remarks containing abusive and obscene language, personal attacks of any kind or promotion will be removed and the user banned. Final decision will be at the discretion of the Taipei Times.