Painter turns illness into inspiration
MOTIVATIONAL: Painter Cheng Mei-chu turned the hardships of a congenital condition into lessons on happiness and confidence, which she depicts in an autobiographical book
Not held back by a congenital condition affecting her skin and appearance, self-taught painter Cheng Mei-chu (鄭美珠) has unveiled a crowdfunded book in hopes of using her story to inspire others.
The autobiographical picture book, released at the Husi Township (湖西) Office in Penghu County on Thursday, is Cheng's first picture book.
Cheng has congenital ichthyosis erythroderma and completed the book herself — including writing the text, drawing the pictures and designing and editing the work — and raised the funds for its publication on the crowdfunding platform FlyingV.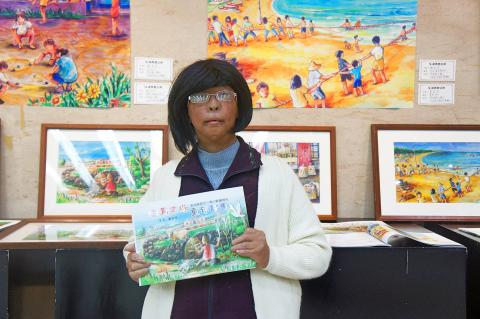 Painter Cheng Mei-chu holds up her crowdfunded autobiographical picture book at a news conference at Penghu County's Husi Township Office on Thursday.
Photo: Liu Yu-ching, Taipei Times
The motivation for creating the picture book came from wanting to transform her own story into an inspiration, Cheng said.
She believes she must accept her flaws and imperfections, convert her stress into positive energy and develop her own interests and talent to live a happy and confident life, Cheng said.
There is no reason to blame others, she said, adding that people should think optimistically.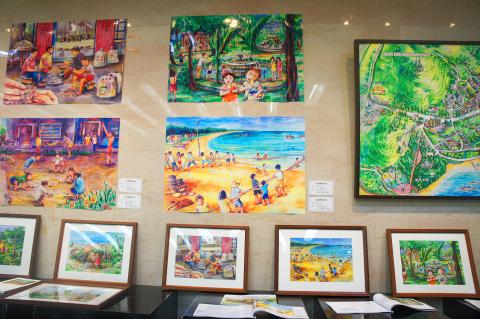 Cheng Mei-chu's paintings depicting local traditions and her childhood memories are exhibited at the Culture Gallery Corridor in Penghu County's Husi Township Office. The exhibition closes on Feb. 28.
Photo: Liu Yu-ching, Taipei Times
The book was released in Husi Township, where Cheng lived as a child.
Cheng hopes to publish picture books depicting her time at Makung Junior High School and National Makung High School, she said.
In creating this book, she allowed memories and traditions to resurface, Cheng said.
Apart from relating the story of her childhood, this book also records an era that has passed, said Cheng, who is also chairwoman of the Penghu Art League, a non-profit organization that works to promote art from Penghu in other parts of the country and overseas — including China, Hawaii and Malaysia — and publicize the beautiful landscape found in Penghu.
Although her skin condition might cause people to look at her differently, she has not let that defeat her, but has let it motivate her, Cheng said.
Having gained some renown, Cheng seeks to give back by helping underprivileged students.
She is a doctoral candidate at Tatung University's Graduate Institute of Design Science and gives oil painting lessons.
Cheng has been given the Presidential Education Award, a National Youth Medal from the China Youth Corps, and a Fervent Global Love of Lives Award from the Chou Ta-kuan Foundation.
Comments will be moderated. Keep comments relevant to the article. Remarks containing abusive and obscene language, personal attacks of any kind or promotion will be removed and the user banned. Final decision will be at the discretion of the Taipei Times.