DPP outlines priorities for special legislative session
Premier William Lai (賴清德) on Friday said he hopes that proposed amendments to the Labor Standards Act (勞動基準法), Income Tax Act (所得稅法) and the general budget will be passed during an extraordinary legislative session that is to begin on Friday next week.
Lai made the remarks during a visit to the Legislative Yuan late in the evening to thank Democratic Progressive Party (DPP) legislators for their work, as the day marked the end of the regular legislative session.
Earlier in the day, DPP caucus members during a luncheon with Lai agreed to hold a cross-caucus negotiation on Wednesday to discuss the agenda for the extraordinary legislative session.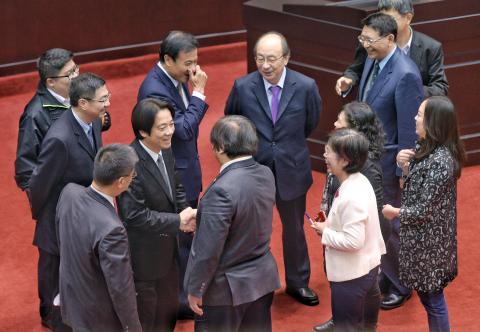 Premier William Lai, fourth left, greets lawmakers in the legislative chamber of the Legislative Yuan in Taipei late on Friday, the last day of this year's legislative session.
Photo: Chang Chia-ming, Taipei Times
Aside from the Labor Standards Act, Income Tax Act and general budget, the DPP also made plans to review the Act of Irrigation Association Organization (農田水利會組織通則) and a proposal that would give lawmakers the right of investiture for Control Yuan members to be nominated by President Tsai Ying-wen (蔡英文) to fill vacancies left by members named by former president Ma Ying-jeou (馬英九) in 2014.
Meanwhile, DPP caucus whip Ker Chien-ming (柯建銘) gave a preview of major bills expected to be reviewed during the next legislative session, including draft amendments to the Air Pollution Control Act (空氣汙染防制法), pension reforms for military personnel and bills to legalize same-sex marriage, all of which he said would be more challenging for lawmakers than the legislation reviewed during the session that ended.
Separately, Chinese Nationalist Party (KMT) caucus secretary-general Lin Wei-chou (林為洲) said that the cross-caucus negotiation on Wednesday would be a "battlefield."
Lin criticized the DPP for postponing reviews of proposed amendments to the Air Pollution Control Act and the Mining Act (礦業法) to the next legislative session instead of the extraordinary session, saying that it would delay legislation efforts.
Both draft amendments were listed as "priority bills" by the DPP at the start of the previous sessions, Lin said.
The draft amendments have great urgency, as the public is highly concerned about the issues they cover, Lin said, urging the DPP to include them in the special session.
The KMT would strive to scrutinize the general budget, for which it has finalized 1,800 motions, he said.
The KMT caucus would consult the Taiwan Confederation of Trade Unions, Taiwan Higher Education Union and other unions to think out strategies to obstruct the DPP's passage of labor act amendments, which are biased toward employers, Lin said.
Comments will be moderated. Keep comments relevant to the article. Remarks containing abusive and obscene language, personal attacks of any kind or promotion will be removed and the user banned. Final decision will be at the discretion of the Taipei Times.