Makatao village celebrates yearly night festival
Makatao villages in Pingtung County concluded their annual Night Festival yesterday, as local government officials joined the Makatao Aboriginal community to review cultural revitalization policies and other government programs outlined for the community over the coming years.
The festival, which took place this weekend at Laopi Village (老埤) in Pingtung County's Neipu Township (內埔), is one of the three main annual cultural events of the county's Makatao people, who are one of 10 officially recognized Pingpu, or lowlands, Aboriginal groups in Taiwan.
"We had over 300 Pingpu clan relatives and friends, mostly from southern Taiwan, coming in to attend this festival," Laopi Village Elder Pan An-chuan (潘安全) said. "It is an important occasion for us to get together, to thank the deities who provided guidance, protection and a good harvest this year, and also to celebrate our cultural heritage."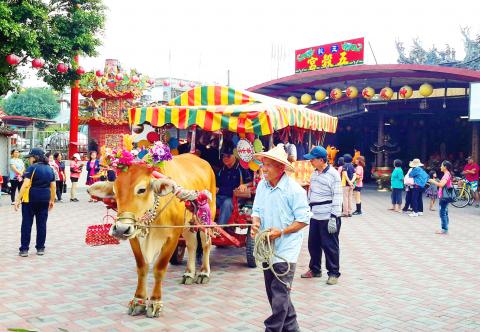 People re-enact what the Makatao Night Festival would have looked like in the past in Pingtung County's Laopi Village on Saturday, as part of this year's festival.
Photo: CNA
Pan said the traditional worship rituals and activities were centered on the village's Laotsu Temple, where gatherers pay respects to Makatao deities through offerings of pork, grains, rice wine, betel nuts and fruits, as well as by performing a special dance known as Tioh-hi.
The dance is performed by women from the Makatao community and led by female shamans.
A key supporter of the revitalization of Makatao traditional festivals is Pingtung County Cultural Affairs Department Director Wu Chin-fa (吳錦發), who has pushed for financial backing for such programs.
"Household registration data from 1909, during the Japanese colonial era, show that Laopi Village had 1,186 residents listed as 'plains Aborigines,'" Wu said in a speech at the festival.
"This was a vibrant Makatao community and a cultural center in the county," he said. "It has remained so up to this day, but work is needed to preserve and pass on the heritage of the community by Makatao elders, community leaders and cultural researchers."
Wu said that since Pingtung County Commissioner Pan Men-an (潘孟安) took office in 2014, programs for Makatao cultural revitalization have been among the county's priorities, along with funding for local schools to teach students about the history and heritage of Makatao people.
Pan Yen-pao (潘燕寶), who heads local Makatao culture working groups, said that this year's event included an exhibition of old photographs and documents about the Makatao community that showed people's activities through the generations, along with a presentation of traditional local arts and crafts.
"The event is a good way to educate young people about the traditions and customs of the Makatao community. It is important for people to recognize their own cultural heritage and identify themselves as Makatao people," he said.
Wu and community elders at the event also invited people to participate in two other upcoming Makatao festivals in Pingtung, the Ganabo Night Festival in Gaoshu Township (高樹), which will be held overnight from Jan. 1 to Jan. 2, and the Gabulong Night Festival in Wanluan Township (萬巒), which is scheduled for March 2.
Comments will be moderated. Keep comments relevant to the article. Remarks containing abusive and obscene language, personal attacks of any kind or promotion will be removed and the user banned. Final decision will be at the discretion of the Taipei Times.