Wu cautions on visa-waiver privileges
NATIONAL DIGNITY: The KMT chairman said the US gave the right example when it waited until Taiwan fulfilled all its criteria before granting the privilege of visa-free travel
Chinese Nationalist Party (KMT) Chairman Wu Den-yih (吳敦義) yesterday urged President Tsai Ing-wen's (蔡英文) administration to ensure mutual respect and be discreet when granting visa-waiver privileges to other countries, as he embarked on a trip to Southeast Asia that has been overshadowed by visa application difficulties.
Wu made the remarks at Taiwan Taoyuan International Airport before leaving for the Philippines on a seven-day trip that is to also take him to Thailand.
Wu was on Friday forced to cancel the Thailand leg of his trip, after failing to secure a visa that he had applied for two weeks ago.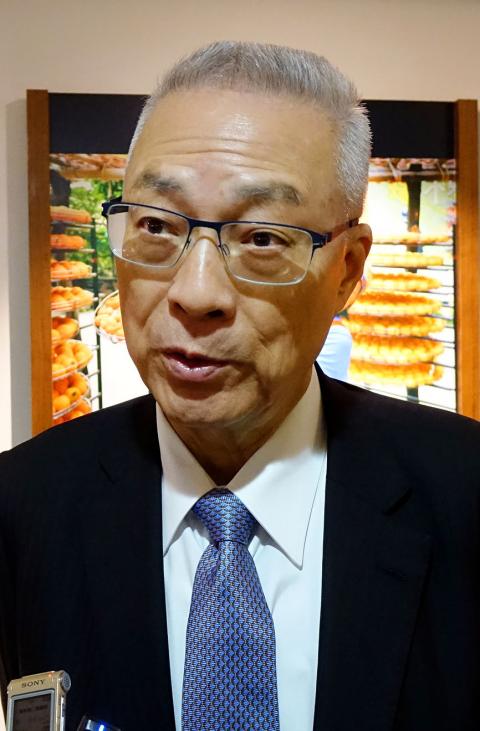 Chinese Nationalist Party (KMT) Chairman Wu Den-yih answers questions at Taiwan Taoyuan International Airport yesterday before setting out on a trip to the Philippines and Thailand.
Photo: Chu Pei-hsiung, Taipei Times
However, in an unexpected turn of events, the Thai government decided to issue visa shortly after the KMT announced the cancelation.
"I am not saying that we should not grant visa-free status to nations friendly toward us, but we must be cautious and discreet and have a good grasp of the local situation first," Wu said.
Citing the US as an example, Wu said that Taiwan had endeavored for a long time to secure visa-free privileges from Washington, but the nation was not able to fulfill all the criteria until 2011, when he was premier.
Taiwan was the 37th nation to be granted the treatment, but only one country has managed to obtain the same privilege since then, Wu said, praising the US' high standards in granting visa-free entry to foreign nationals.
"[It is inappropriate] if Southeast Asian nations hold off on offering us visa-free treatment, but we proceed to grant it to them. There should be reciprocity," Wu said, in an apparent reference to the Tsai administration's granting of visa waivers to some of the nations targeted by its New Southbound Policy.
The government initiated a year-long pilot visa-free entry program for Thai and Bruneian nationals in August last year, offering them 30-day visa-free stay in Taiwan. The program was this year extended by one more year, after government statistics showed a significant increase in the number of tourists from the two countries to Taiwan.
Earlier this month, a similar program was launched for Philippine nationals, who are now granted 14-day visa-free stays in Taiwan. Conditional visa-free entry has also been granted to the citizens of Cambodia, India, Indonesia, Laos, Myanmar and Vietnam.
However, the Thai government, for example, requires that Taiwanese nationals apply for a landing visa upon arrival in Thailand, which is valid for 15 days.
There are also allegations that some Thai nationals have taken advantage of the visa waiver program to engage in prostitution in Taiwan.
In response, Ministry of Foreign Affairs spokesman Andrew Lee (李憲章) said the government has always conducted a thorough and careful evaluation of other nations' conditions before granting their citizens visa-free entry.
Violations of the Social Order Maintenance Act (社會秩序維護法) have increased slightly since visa waivers were granted to Southeast Asian nations, but the number of tourists from the region to Taiwan has increased 33 percent between January and September compared with same period last year, Lee said.
"While the programs have benefitted tourism as expected, the ministry has instructed the responsible agencies to pay close attention to law violations to keep our nation safe," he said.
Comments will be moderated. Keep comments relevant to the article. Remarks containing abusive and obscene language, personal attacks of any kind or promotion will be removed and the user banned. Final decision will be at the discretion of the Taipei Times.