Xi aims to turn CCP into 'state party': expert
'XI JINPING THOUGHT': Xi's policy of merging the CCP and the government at different levels signals a departure from Deng Xiaoping's policies, John Burns said
Chinese President Xi Jinping (習近平) aims to turn the Chinese Communist Party (CCP) into a "state party," which, as it builds a Chinese model of development, requires meritocracy, a Chinese politics expert said in Taipei on Saturday.
Xi is set to begin his second five-year term as CCP general secretary with so-called "Xi Jinping thought" expected to be incorporated into the party's constitution at the CCP's ongoing 19th National Congress this week.
In a lecture for the Lung Ying-tai Cultural Foundation's "Taipei Salon" series, John Burns, a former chair professor of politics and public administration at the University of Hong Kong, offered his reading of the vision for China laid out by Xi in his work report presented at the congress on Wednesday.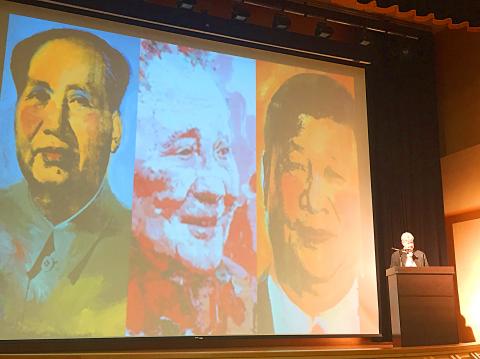 John Burns, former chair professor of politics and public Administration at the University of Hong Kong, delivers a lecture for the Lung Ying-tai Cultural Foundation's "Taipei Salon" series in Taipei on Saturday.
Photo: CNA
Burns said there are several significant differences between Xi's work report and earlier ones.
One point that has attracted little, if any, attention is an indication that the CCP and the Chinese government will be merged at provincial, prefectural and county levels where they perform the same functions, Burns said.
"This is a step toward creating a 'state party.' This is the clue. This is exactly where the [Chinese] Communist Party is going," he said. "This is not a small paragraph. It's a major departure from the policies [former Chinese leader] Deng Xiaoping (鄧小平) has championed since the 1980s."
Instead of using the term "party state," which is often used to refer to China, Burns said: "We should be talking about the Communist Party as a 'state party.'"
Burns said he believes turning the CCP into a "state party" is Xi's ultimate goal.
Xi's vision for China as a global leader in terms of national strength and international influence was a "dramatic declaration," he added.
When Xi came to power in 2012, the CCP was riddled with systematic syndicated corruption and its leadership was fractured into many factions, each led by a strongman competing for power, but the massive anti-corruption campaign waged by Xi has enabled him to build a "coherent, unified" party, Burns said.
Burns said he considers Xi's rooting out corruption in the Chinese People's Liberation Army (PLA) to be his "No. 1 achievement," because the problem was so severe that Xi saw it as a military that "cannot fight."
The progress Xi has made at home in fighting corruption has allowed him to punish political enemies, identify loyal supporters and, most significantly, regain central control of the PLA, Burns said.
Those achievements, together with China's increasing global presence partly to do with the global leadership vacuum created by US President Donald Trump, have made Xi "the world's most powerful man," Burns said.
Burns said that the concentration of such vast power in the hands of one person is by no means without risks.
"There are dangers ahead," he said. "And we see nothing [in Xi's work report] to reform the economy that is new."
"But please remember, China's model of development requires meritocracy," he said.
Answering a question from German Institute Taipei Director-General Martin Eberts on China's economy, Burns said that he saw "contradictions between party control and the market" and that he doubts Xi's ideas in this area will work in the long term.
Xi believes that the Soviet Communist Party's downfall came about after it gave up control of the economy, and that is why he insists on tighter control of Chinese state-owned enterprises, directing private investments from large numbers of billionaires in state-owned enterprises and encouraging the state to invest in private businesses, Burns said.
On the question of democracy, Burns said that Xi's understanding of democracy bears no relation to the democracy in Taiwan, which he described as "the headquarters of competitive democracy."
"Look around you. This is democracy," he said.
Burns said what Xi talks about is a "different kind of democracy" that is "in the interests of its people."
On Xi's pledge to advance law-based governance, Burns said that Xi's goal is to have the Chinese government "ruled by law," not to establish "rule of law."
Under the rule of law, the state is be treated like any other legal entity before the courts, but "I don't think this was [Xi's] intention," Burns said.
What Xi envisions is that the CCP will "tightly control the content of laws" and the laws will be applied to corrupt businesses and officials, Burns said.
Although this will affect the legal professions and human rights, Xi considers it necessary for China's development, he added.
Comments will be moderated. Keep comments relevant to the article. Remarks containing abusive and obscene language, personal attacks of any kind or promotion will be removed and the user banned. Final decision will be at the discretion of the Taipei Times.