Certain military personnel to see wage hikes: Tsai
The government will raise the salaries of soldiers in chemical warfare, engineering and communications units, President Tsai Ing-wen (蔡英文) said during her review of the 99th Marine Brigade yesterday.
If a plan by the Ministry of National Defense to give bonuses to combat troops is approved by the Executive Yuan, military personnel in other branches might also receive extra pay, a ministry official said on condition of anonymity.
The ministry does not know whether the Executive Yuan, which is evaluating the plan, will accept it in part or as a whole, the official added.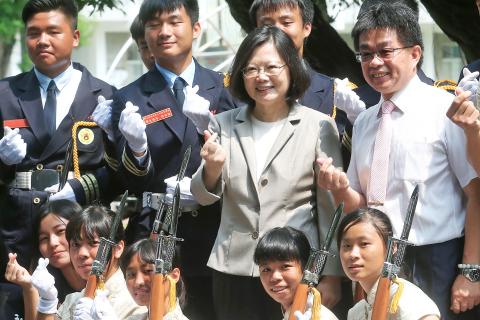 President Tsai Ing-wen, middle, second right, makes the "finger heart" sign alongside members of the Republic of China Marine Corps 99th Marine Brigade and students from National Hengchun Vocational High School during an inspection in Kaohsiung yesterday.
Photo: CNA
The proposal would affect 29,995 personnel serving in drone-equipped aviation units, the 101st Amphibious Reconnaissance Battalion and other units, the official said.
The proposal would increase the ministry's budget by NT$1.19 billion (US$39.44 million), the official said.
Combat units began receiving bonuses on April 1, 2015, with troops in the type one category receiving an extra NT$5,000 per month and those in type two receiving an extra NT$3,000.
Many units depending on volunteer soldiers are understaffed and have not met their recruitment growth targets, according to military evaluations.
Part of the problem is that the bonuses are distributed through brigade payrolls, which leaves out certain battalions and units that are not a part of a brigade's formal organization, the official said.
The ministry reviewed its bonus distribution system to boost morale and came up with the new bonus plan, the official said.
If the budget proposal is approved by the Executive Yuan and passes legislative review, the type one bonus would be paid to soldiers in the 101st Reconnaissance Battalion and drone-flying aviation units, the official said.
Chemical warfare, engineers and communications soldiers would receive the type two bonus, the official added.
Comments will be moderated. Keep comments relevant to the article. Remarks containing abusive and obscene language, personal attacks of any kind or promotion will be removed and the user banned. Final decision will be at the discretion of the Taipei Times.