Low rating due to 'unclear' goals
PLANNING STAGE: The Presidential Office declined to confirm a report that former premier Lin Chuan would represent the nation at an APEC meeting in November
Unclear national goals and directions explain President Tsai Ing-wen's (蔡英文) poor approval rating, former president Lee Teng-hui (李登輝) said yesterday.
Lee made the remark in a speech at a fundraising dinner for the Lee Teng-hui Foundation in Taipei.
Taiwan marked its third transfer of power last year after the public voted out the China-leaning Chinese Nationalist Party (KMT), he said, adding that it was significant that the Democratic Progressive Party (DPP) won both the presidential and legislative elections last year, as it has an absolute majority in the executive and legislative branches for the first time.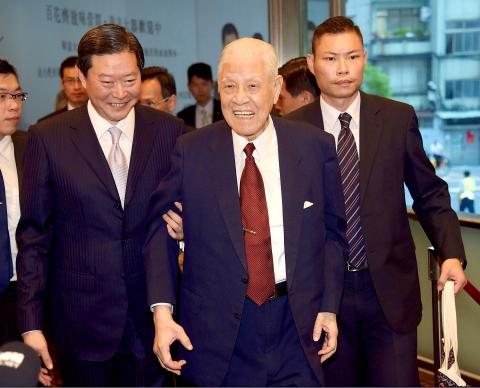 Former president Lee Teng-hui, center, attended a fundraising dinner for the Lee Teng-hui Foundation in Taipei yesterday.
Photo: Taipei Times
"However, what are the governing team's phase missions and national goals and directions? Those still remain unclear, factors that have contributed to Tsai's poor approval rating," Lee said. "What is more worrisome is whether a China-centric regime in 2020 will make a comeback in Taiwan like in 2008 — it is a serious issue one must ponder."
Speaking of the key points of the foundation's future work, Lee said it hopes to help Taiwan "turn over a new leaf" by devoting itself to rectifying the nation's name and creating a new constitution for Taiwan.
Asked for his thoughts on new Premier Willian Lai (賴清德), Lee lauded Lai as a good choice for the position, saying that he has demonstrated efficiency and is steadfast in his view that Taiwan is an independent, sovereign nation.
In other news, Presidential Office spokesman Sidney Lin (林鶴明) yesterday dodged a question on whether Lin Chuan (林全), who resigned as premier on Monday, was being tapped as the nation's representative to an APEC meeting later this year.
Sidney Lin declined to deny or confirm a media report that the former premier might represent the nation at the APEC meeting in Vietnam in November.
Everything related to the Nov. 11 to Nov. 12 APEC meeting in Da Nang, Vietnam, is still in the planning stage, he said, adding that once all arrangements are finalized, the Presidential Office would issue a public statement.
Chinese-language online news outlet Taiwan People News cited an unnamed DPP legislator as saying that Lin Chuan should not be ruled out as the nation's representative to the meeting and that it would be a good arrangement.
Additional reporting by CNA
Comments will be moderated. Keep comments relevant to the article. Remarks containing abusive and obscene language, personal attacks of any kind or promotion will be removed and the user banned. Final decision will be at the discretion of the Taipei Times.