Bill will not affect exisiting mines: Li
DIGGING FOR MEANING: Groups criticized the premier's proposal for environmental reviews as vague, saying that only individual assessments could deny mining rights
The appointment of a new Bureau of Mining Affairs director and potential amendments to the Mining Act (礦業法) would not affect mining operations approved before the amendments, Minister of Economic Affairs Li Chih-kung (李世光) said yesterday.
The passing of documentary filmmaker Chi Po-lin (齊柏林), renowned for Beyond Beauty: Taiwan From Above (看見台灣), has drawn attention to environmental issues, particularly the alleged expansion of operations by Asia Cement Corp (亞泥) in Hualien County, as the documentary had captured the effects of the company's actions on the region's environment.
Premier Lin Chuan (林全) on Tuesday wrote on Facebook that he had instructed the Ministry of Economic Affairs to review the standards for application approval regarding the approved extension of all mining licenses held by Asia Cement.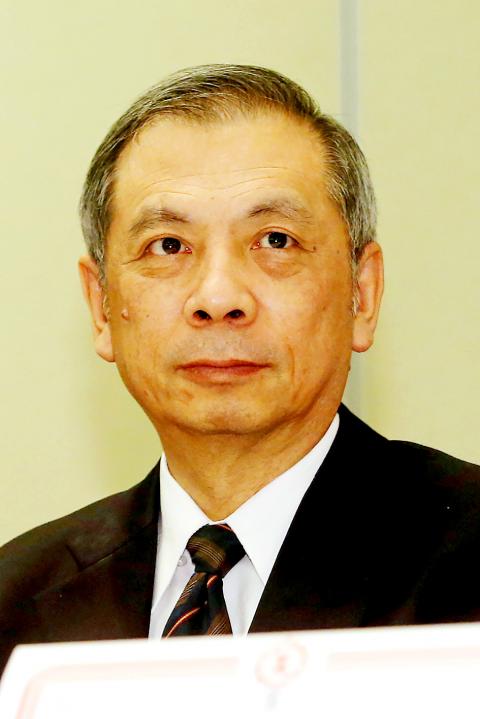 Bureau of Mining Affairs Director Chu Ming-chao is pictured on Tuesday in Taipei.
Photo: CNA
Lin instructed the ministry to publish its findings within the week and said that any illegal activities would be prosecuted.
All 42 applications for new cement mines have been put on hold and if the amendments pass the legislature, all mines that have been approved without an environmental impact assessment would undergo one, the Executive Yuan said.
Bureau of Mining Affairs Director Chu Ming-chao (朱明昭) tendered his resignation on Tuesday.
The ministry has tapped Hsu Ching-wen (徐景文) to succeed Chu, although the paperwork was still being processed.
The bureau aims to conduct environmental impact assessments and make contingency plans for mines of more than 2 hectares that have produced at least 50,000 tonnes of cement per year over the past five years, while mines larger than 2 hectares that have produced less than 50,000 tonnes would have to draw up contingency plans in case of a disaster.
Meanwhile, environmental activists yesterday called for the amendments to be introduced immediately, threatening to take to the streets unless the Executive Yuan's promises are clarified.
"The Democratic Progressive Party [DPP] government should not keep 'pushing toothpaste out of a tube' in response to rising civic anger — we want a full plan," Wild at Heart Legal Defense Association secretary-general Hsieh Meng-yu (謝孟羽) said.
The association has been working with Citizens of the Earth, Taiwan to protest against Asia Cement, which in March was handed a controversial 20-year extension of its mining rights.
Activists are calling for a review to be conducted before the mining rights are renewed, as mining at the site has never undergone an assessment under Environmental Impact Assessment Act (環境影響評估法) standards because approval was granted prior to the act's introduction.
Lin on Wednesday said that all mining sites that have never been subjected to an environmental impact assessment would be required to pass the procedure after the planned revisions to the Mining Act are passed.
"Do not think that you can deceive us — what kind of assessment do you mean?" Hsieh asked.
Lin's promise could be interpreted as only referring to an overall environmental investigation under the Environmental Impact Assessment Act, rather than a substantial individual case by case review, Hsieh said.
Only an individual case review could potentially lead to the denial of mining rights, he added.
Citizen of the Earth, Taiwan researcher Pan Cheng-cheng (潘正正) said that environmental approval is important because the mining area includes geologically sensitive areas that could cause rock slides and which are not addressed in the firm's water conservation plan.
"Mining rights belong to the nation, meaning that that they are a privilege, not a right, and they should be subject to particular supervision," Hsieh said, adding that the firm's surface rights had been acquired without the consent of neighboring Aborigines, who previously possessed usage rights.
Asia Cement's promise to reduce the size of its usage rights by 40 percent drew criticism for failing to include the portion for which mining had been approved.
"Asia Cement's statements are deceptive because while it is willing to give up some of the 'egg white,' mining will continue in the 'egg yolk' area as always," Citizen of the Earth, Taiwan consultant Tsai Chung-yueh (蔡中岳) said.
"Do not play word games — reducing the usage rights area is not the same as reducing the amount mined," said DPP Legislator Lin Shu-fen (林淑芬), who was supporting the environmentalists.
The extension of the firm's licenses has drawn criticism from DPP legislators for occurring shortly after DPP Legislator Gao Jyh-peng (高志鵬) announced an amendment to the Mining Act that would require an environmental impact assessment before mining rights could be extended.
Comments will be moderated. Keep comments relevant to the article. Remarks containing abusive and obscene language, personal attacks of any kind or promotion will be removed and the user banned. Final decision will be at the discretion of the Taipei Times.