EPA official storms out of public meet
BENEFITING THE FEW: An amendment to the EIA rules might unduly expedite the development of projects by large corporations, a water resources advocate said
The first public hearing on an amendment to the nation's environmental impact assessment (EIA) regulations broke up yesterday, after an official stormed out citing wrongful accusations by environmentalists.
The Environmental Protection Administration (EPA) originally scheduled public hearings for 9:30am and 2pm to discuss an amendment to the Standards for Determining Specific Items and Scope of Environmental Impact Assessments for Development Activities (開發行為應實施環境影響評估細目及範圍認定標準).
Before the start of the first hearing, environmental advocates gathered outside the EPA building to raise concerns about items on the bill.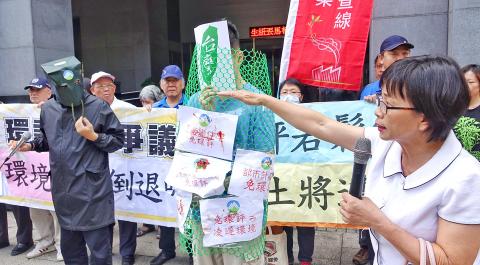 Environmental groups yesterday perform a skit and hold banners protesting against proposed changes to environmental impact assessment rules in front of the Environmental Protection Administration building in Taipei.
Photo: Liu Hsin-de, Taipei Times
Taiwan Water Resources Protection Union director Jennifer Nien (粘麗玉) said the draft might lead to an easing of regulations governing urban development.
It might unduly expedite the development of projects by Formosa Petrochemical Corp, CPC Corp, Taiwan and other large companies, she said.
The public hearing got under way, hosted by EPA Deputy Minister Thomas Shun-Kuei Chan (詹順貴), who was an environmental lawyer before taking office.
Chan said he understood the concerns of environmentalists, adding that he expected them to engage in deeper discussion.
"We welcome different opinions, but disagree with allegations that we are benefiting corporations," he said.
Nien said that she was not accusing the EPA of benefiting corporations.
Another advocate protested that the conference room was too crowded and called on Chan to allow more people to sit around the table.
Unhappy that his remarks kept being interrupted by meeting participants, Chan canceled the meeting and stormed out of the room.
He added that he would resign his position if he has ever acted in ways that benefited developers.
"Chan used to work with us before he took office," Green Consumers' Foundation chairman Jay Fang (方儉) said, adding that the draft would have an immense negative impact.
"Chan could not calmly address the amendment. The EPA should not allow him to host any more meetings," Fang said.
Other groups called for collaboration.
Environmental Jurists Association Secretary-General Echo Lin (林仁惠) urged both sides to continue the meeting and discuss the amendment.
Misunderstandings about the amendment could be worked out, Wild at Heart Legal Defense Association Secretary-General Lin Tzu-ling (林子凌) said.
About half an hour later, Chan returned to the meeting room with EPA Minister Lee Ying-yuan (李應元).
Lee said that he understood the participants' concerns, but hoped that attendees could respect procedures.
A larger room would be used for the next public hearing on Friday, he said.
In related news, the EPA announced that it would begin the selection process for EIA committee members, as the two-year tenure of the 14 current members ends on July 31.
The EIA is planning to livestream review meetings beginning in August, Department of Comprehensive Planning Director-General Liu Tsung-yung (劉宗勇) said.
Comments will be moderated. Keep comments relevant to the article. Remarks containing abusive and obscene language, personal attacks of any kind or promotion will be removed and the user banned. Final decision will be at the discretion of the Taipei Times.