Lee Yuan-tsu dies aged 94
Former vice president Lee Yuan-tsu (李元簇) died at the age of 94 in the early hours of yesterday morning at his home in Chiayi County's Toufen City (頭份) after developing kidney disease.
Lee, who was known as "the silent vice president," served under former president Lee Teng-hui (李登輝) from 1990 to 1996, after which he retired to Chiayi.
Lee Yuan-tsu was nominated vice president by Lee Teng-hui in the wake of political conflict within the Chinese Nationalist Party (KMT), which began after former president Chiang Ching-kuo (蔣經國) died without appointing a successor on Jan. 13, 1988.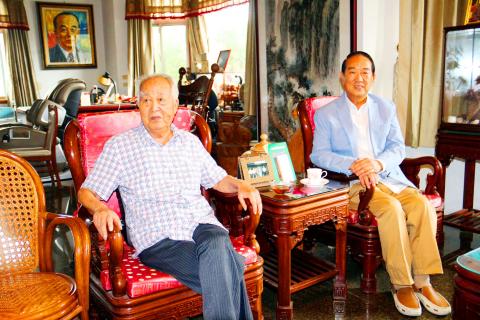 Former vice president Lee Yuan-tsu, left, talks to People First Party Chairman James Soong at his residence in Miaoli County's Toufen City in August 2015. The meeting was Lee's last public appearance.
Photo: CNA
Known as the February Political Struggle, the conflict divided the KMT into two camps: The so-called "mainstream faction" led by Lee Teng-hui that was perceived to be pro-reform, and the "non-mainstream faction" that was comprised of his opponents.
In 1989 Lee Teng-hui said his vice president must be a waishengren (外省人), a term referring to people who fled to Taiwan with the Chinese Nationalist Party (KMT) in 1949; an outsider to the KMT's inner circle; have no presidential ambitions and have a reputation for being circumspect and trustworthy.
Lee Yuan-tsu was considered a favorable nominee because of his expertise in jurisprudence, which Lee Teng-hui considered indispensable to his constitutional and legal reforms.
Lee Yuan-tsu was elected vice president by the National Assembly on March 21, 1990, becoming the last waishengren to hold that office and the last vice president elected by the National Assembly.
During his tenure, Lee Yuan-tsu was known for his laconic and restrained public style.
"A good vice president is a silent vice president" Lee Teng-hui reportedly once said of Lee Yuan-tsu.
After retiring in 1996, Lee Yuan-tsu resumed teaching at National Chengchi University. Following his wife's death in 1998, he lived alone.
President Tsai Ing-wen (蔡英文) offered her condolences to Lee Yuan-tsu's family and her support for his funeral arrangements.
"The Executive Yuan is deeply saddened at the passing of former vice president Lee Yuan-tsu," Executive Yuan spokesperson Hsu Kuo-yung (徐國勇) said on Facebook.
Lee Yuan-tsu died of renal failure and had issued a "no resuscitation order," former charge d'affaires at Lee Yuan-tsu's official residence Chen Chin-ting (陳進丁) said.
Additional reporting by CNA
Comments will be moderated. Keep comments relevant to the article. Remarks containing abusive and obscene language, personal attacks of any kind or promotion will be removed and the user banned. Final decision will be at the discretion of the Taipei Times.