MOI to remove CKS guidelines
The Ministry of the Interior is proposing the abolition of regulations guiding portrayals of former president Chiang Kai-shek (蔣介石), Minister of the Interior Yeh Jiunn-rong (葉俊榮) said yesterday at the Legislative Yuan.
Democratic Progressive Party (DPP) Legislator Kolas Yotaka asked Yeh about the Notice Regarding the Construction of Statues for the Honorable Former President Chiang (塑建總統 蔣公銅像注意事項) which was promulgated by the ministry in 1975, shortly after Chiang's death.
The notice requires statues to portray Chiang as being "amiable," "dignified" and bearing "revolutionary spirit which includes compassion, wisdom, bravery, perseverance and optimism."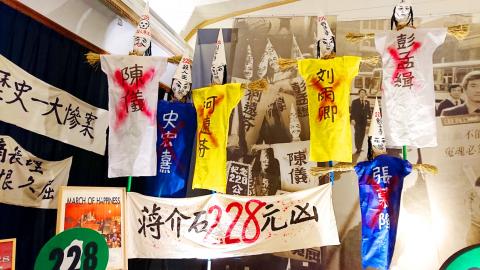 Protest banners with the names of alleged 228 Massacre perpetrators are displayed yesterday at a special exhibition at the National 228 Memorial Museum in Taipei.
Photo: Chen Yu-fu, Taipei Times
The notice requires the addition of Chiang's final words to the base of statues and includes instructions for environment and height, mandating pedestals stand at least 2m tall.
"Anyone viewing the statue is supposed to have to look up to Chiang," Kolas said.
"These kind of regulations reflect the reality of the development process Taiwan has gone through," Yeh said, adding that he had not been aware of the regulations' continued existence.
"I want to abolish it quickly," he said, assuming it remains valid.
The future of public statues of Chiang has been a point of contention as the DPP government pushes for transitional justice legislation, with numerous acts of protest vandalism committed against Chiang statues every year.
Many statues have been removed, with more than 200 currently interned at Chiang's Cihu Mausoleum in Taoyuan, where they were moved after former sites disposed of them.
Meanwhile, when asked if he would continue to represent the central government in attending annual sacrifices to Koxinga (鄭成功) next month, Yeh said his schedule has yet to be determined.
Kolas, an Amis, called for Yeh to refrain from participation to show cultural sensitivity, because Koxinga's conquest of the island marked the beginning of Han Chinese rule and the subsequent displacement of Aboriginals.
Comments will be moderated. Keep comments relevant to the article. Remarks containing abusive and obscene language, personal attacks of any kind or promotion will be removed and the user banned. Final decision will be at the discretion of the Taipei Times.