Pensions must provide living expenses: SDP
INVERSE PYRAMID: Statistics show that the 260,000 retirees with benefits of more than NT$40,000 account for more than double the spending on any other bracket
National pension reform should consolidate different pension funds while guaranteeing minimum living expenses and putting a ceiling on payouts, the Social Democratic Party (SDP) said yesterday, announcing its pension reform plans as a national debate continues.
"It is time to stop the war of words, because we all have our 'saliva' on the subject. Anyone who is serious about supporting reform should put forth their plan," SDP policy committee convener Fan Yun (范雲) said.
Fan criticized the organizers of Saturday's protest by retired public-school teachers, civil servants and military personnel for stating that they support pension reform, while focusing on the "non-issue" of "dignity" instead of outlining specific proposals.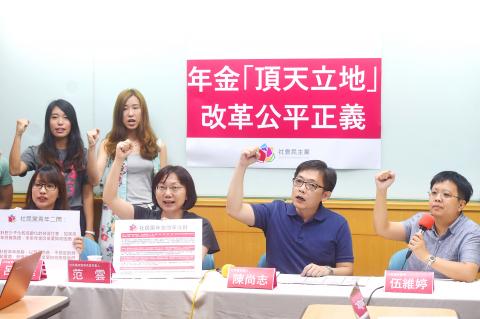 Social Democratic Party policy committee convener Fan Yun, front second left, raises her fist together with fellow party members at a news conference on pension reform in Taipei yesterday.
Photo: Chien Jung-fong, Taipei Times
"The problem with pensions is that the difference across occupations is too huge, which is what creates hostility. Pension funds are going bankrupt because they are tied too closely to salaries rather than providing a minimum guarantee for retirees," she said.
SDP convener Chen Shang-chih (陳尚志) said that national pension fund statistics show that spending is an inverse pyramid, with the 260,000 pensioners with monthly benefits of more than NT$40,000 accounting for more than double the spending on any other bracket, while 1.39 million retirees with benefits of less than NT$5,000 account for less than any other bracket.
"How can you expect someone to live on less than NT$10,000 [a month]?" Chen said, calling for a universal pension equal to basic living expenses to guarantee dignity for the elderly.
Based on 60 percent of average national spending per person, national basic living expenses are equal to about NT$12,000 a month, he said, adding that the government could provide all of the nation's 3.3 million retirees with an NT$11,795 monthly pension if it were to allocate pension spending equally.
Fan added that the SDP's plan would include a relative or absolute cap on benefits, citing both a possible 60 percent "replacement ratio" cap relative to salaries and an absolute cap equal to the average national wage.
"If you want to earn a larger pension, you can always invest in private insurance, but the government should not have to make that kind of guarantee," Fan said, adding that the party's plan would also eliminate the 18 percent interest rate accounts of former government employees.
Vice President Chen Chien-jen (陳建仁), who chairs the Pension Reform Commission which President Tsai Ing-wen (蔡英文) has charged with drafting new legislation, said last week that retired public-school and university teachers receive average monthly pensions of NT$68,025, retired civil servants receive NT$56,383 and military personnel receive NT$49,379.
In comparison, retired blue-collar workers (including most salaried private-sector workers) receive average monthly pensions of NT$16,179 from their Labor Insurance, while farmers receive an average of NT$17,223.
Those who receive a national pension, which serves as the de facto baseline pension for people such as the long-term unemployed who are excluded from other funds, receive an average of NT$3,628 a month.
Comments will be moderated. Keep comments relevant to the article. Remarks containing abusive and obscene language, personal attacks of any kind or promotion will be removed and the user banned. Final decision will be at the discretion of the Taipei Times.